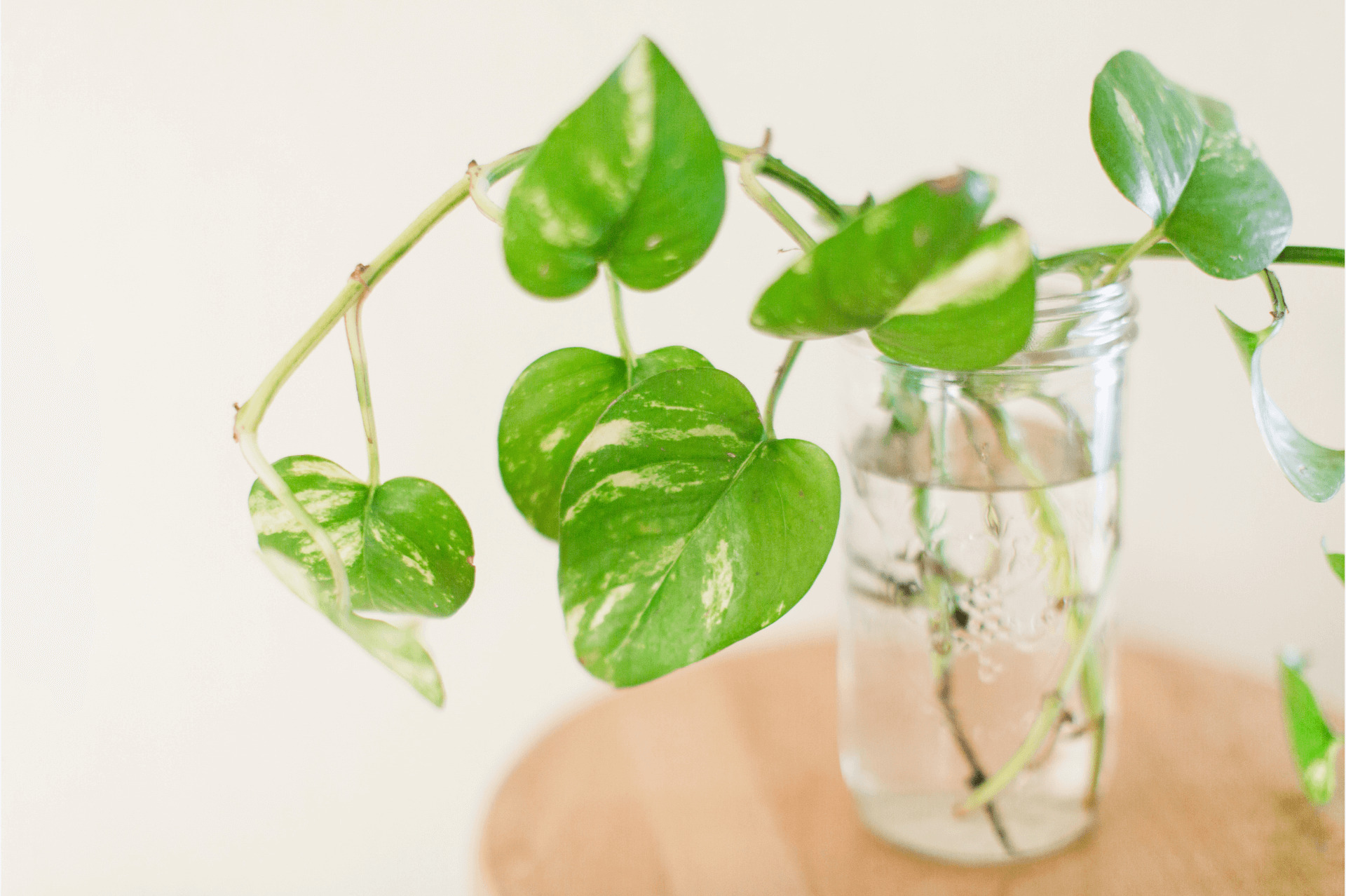 Plant propagation is a great way of saving time and money that you'd normally spend on cultivating healthy plants. Not only is it a practical method, but it's also an excellent way of adding some color and beauty to your home.
Having a good plant propagation station is important for your baby plants to grow until you've decided whether you want to plant them in pots or directly in the soil. However, choosing the right station is crucial if you want to get the most out of it.
If you're looking for some stylish plant propagation stations, we've rounded up a list of some of the best products available on the market. Let's take a look!
What is a Plant Propagation Station?
Plant propagation can be done in two ways. The first way involves removing the small, self-grown plants and replanting them directly in the soil. The second method involves growing the plants from seeds, stems, buds, leaves, or cutting tips and setting them in the water.
This is where the plant propagation station comes in. Plant propagation stations are simply a spot for you to grow brand new plants from parent plants. These are already assembled for you to breed and multiply your vegetation easily and effectively.
Best Plant Propagation Stations
If you're looking for a ready-made station to propagate your plants, there are hundreds of options available on the market for you to choose from. However, choosing a high-quality product is important to ensure that you get the best results.
After an extensive search, we've rounded up a list of some of the best plant propagation stations on the market right now. Let's take a look:
Desktop Plant Terrarium Propagation Station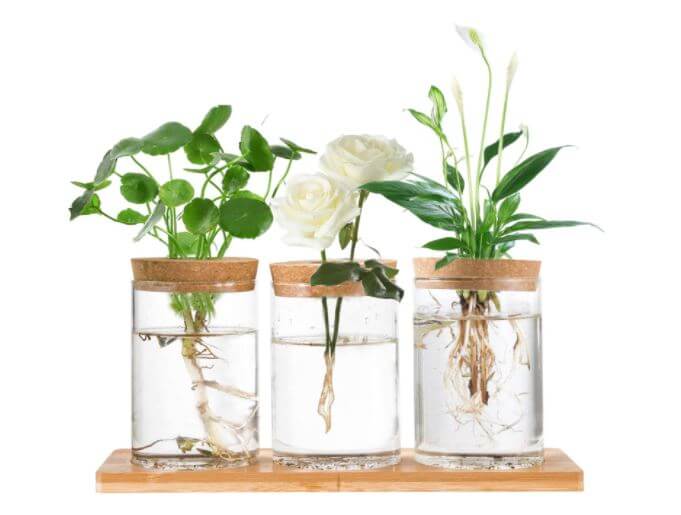 This propagation station consists of 3 glass planters with a fitting wood rack. The glass vases are covered with a cork lid with a hole in the center. Since this station is larger in comparison to other similar products, it's suitable for bigger propagations.
The planters are made with high-quality glass which is dishwasher-safe and the cork lid on the top can be easily removed, making it easier to clean. Therefore, this station is a minimalistic propagation system that requires very low maintenance.
Due to its stylish look, this station can be used as a fresh flowers display. It can be placed on your window sill, office table, book rack, or even on the dining table, creating beautiful and refreshing scenery in your home.
Pros:
Highly functional
Easy to assemble
Easy to clean
Stylish design
Sturdy, high-quality material
Bigger in size than its competitors
Cons:
This propagation station can only be placed on a flat surface. It's not made for hanging.
Mkono Plant Terrarium Desktop Propagation Station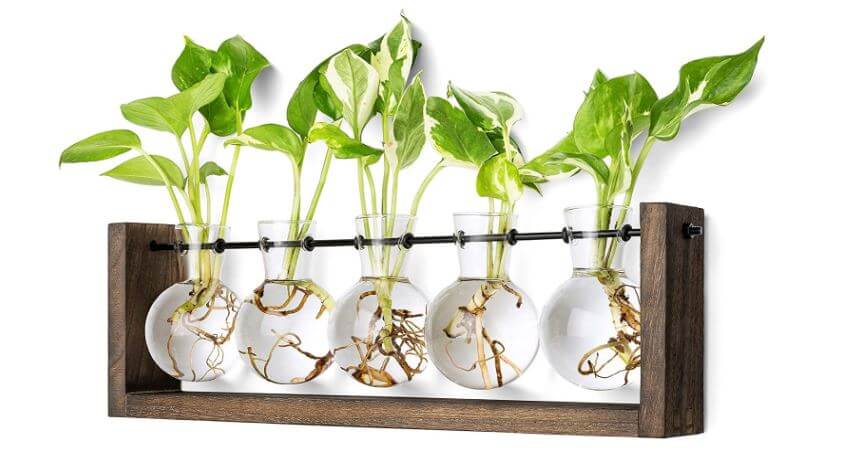 This station comes with 5 bulb-shaped vases hung together by a small metal rod that runs through them. The wooden rack is designed in a way that it can be placed on top of a flat surface or mounted on a wall. Its minimalistic and simple design adds a vintage look to wherever it's hanged or placed.
This plant propagation station is easy to assemble and comes with everything required to set it up. The unique bulb shape of the glass planters gives the plant roots lots of space to unlike most other stations made of glass tubes and other cylindrical containers. The shape magnifies the roots of the plant which helps you to examine the growth of every tiny root visibly.
Pros:
Easy to assemble
Can be hanged or placed on top of something
Unique round shaped glass flasks
Simple design
Functional
Cons:
Smaller than its competitors
The glass isn't as sturdy as its competitors
Replacing water and cleaning out the bulbs can be a hassle
Organic Sun Wall Plant Propagation Station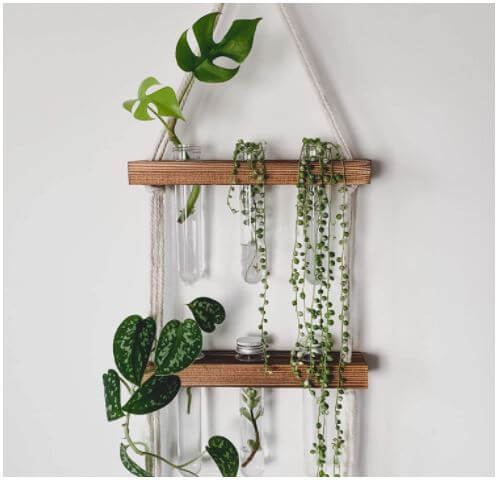 This hanging propagation station is quite unique in design. It consists of 2 wooden parts and a two-tiered, hand-made macrame to hold the wooden parts together. The tubes are inserted through the holes of the wooden bars and can be detained or removed easily.
This product is easy to assemble since the macrame is already attached to the wooden bars. All you need to do is to put the tubes in place and you're set. This product is highly durable since all tubes are made of thick plastic.
This propagation station is very light in weight and comes with a plastic hook that makes it easy to attach. You'll be able to replace or move it around without any hassle.
Pros:
Beautiful and innovative design
Extremely durable
Easy to assemble and install
Portable
Cons:
Can only be used as a hanging station
Not an eco-friendly product
Leses Air Plant Propagation Station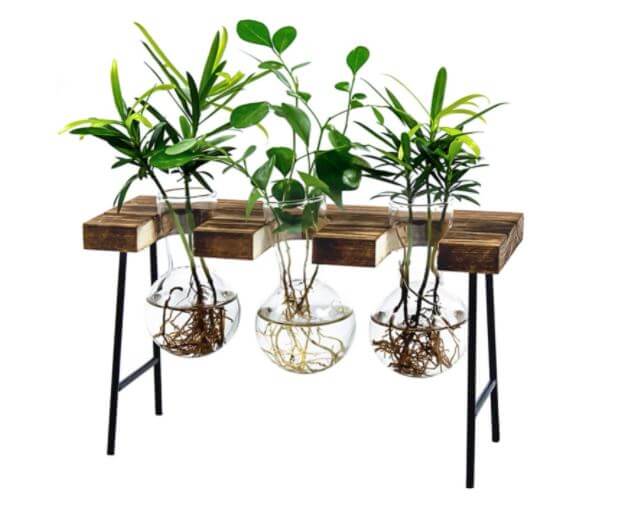 This propagation station can double as a flower arrangement, bringing a touch of nature into your home. The wooden bracket is made of natural wood that's also durable and can stand firmly on nearly any surface without collapsing.
The bulb-shaped glass flasks provide a lot of room for the plants to grow, especially in the bottom area. They're made with heat-resistant, high-quality glass material and each can be removed individually. They're very easy to clean and can be refilled without removing the vases from the rack.
Pros:
Easy to refill
Modern design
Non-collapsible
Made of top quality borosilicate glass
Cons:
Since the openings of the tubes are too narrow, they're not ideal for thicker-stemmed plants
Ivolador Terrarium Container Hanging Glass Planter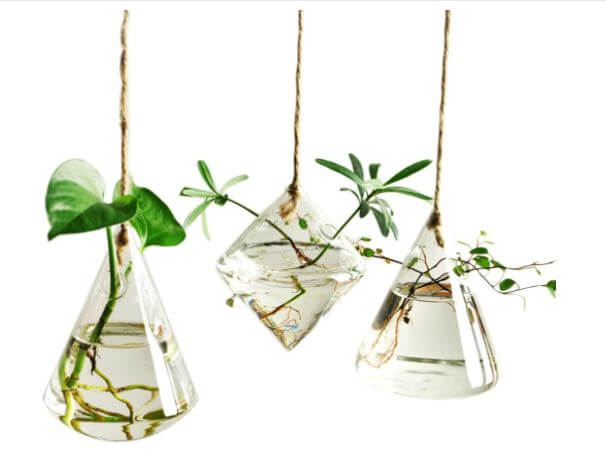 This propagation station consists of 3 differently shaped glass terrariums that can be hung separately. If one flask gets damaged or broken, you can still use the other two on their own. That way you won't have to worry about leaving an empty space in your propagation station.
This product is extremely durable since all the flasks are made of heat-resistant glass materials. It is also quite affordable in comparison to most other products.
Pros:
A versatile product
Beautiful, modern design
Multifunctional
Quality material
The wide-bottom flasks provide enough space for plant roots to spread out
Cons:
Openings are too narrow
The flasks are too small
Takes time to assemble
Uwioff 2 Pack Plant Propagation Station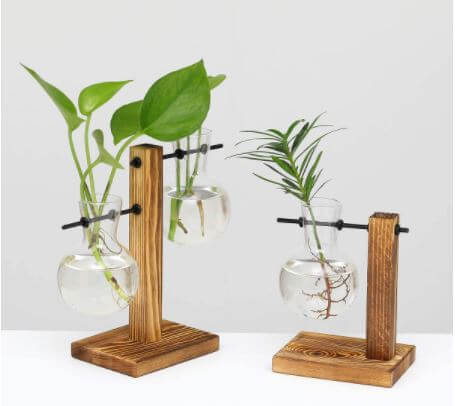 This station includes two wooden stands of different sizes, each with two metal rods to hold glass planters. The smaller rack comes with just one planter, while the bigger one holds two. The design of this propagation station is minimalistic, yet elegant, and you can use both stands to decorate two different places in your home.
This system is very easy to put together and take apart, which means you won't have to go through a lot of trouble to refill the water and clean it. Made with high-quality glass and wood material, it's beautifully designed and also makes a great gift for someone.
Pros:
Can be used separately
Made from high boron silicon glass
Easy to assemble
Easy to clean
Can be placed separately
Cons:
Product doesn't come with instructions on assembling
Smaller in size than its competitors
Water can leak from the side holes
Waytoeast Desktop Plant Propagation Station
This station includes 3 glass vases that can be attached to a wooden stand with a metal rod. The design of this station is quite similar to other propagation stations on the market but has a more attractive look.   
We loved this propagation station as it's easy to place the plants in glass containers. It's also very convenient and can be easily taken apart for cleaning. It adds a natural atmosphere wherever it's placed and is beautiful to look at. On the downside, it holds only three glass containers.
Pros:
Easy planting
Easily assembled
Multifunctional
Lovely design
Cons:
The stand is not as sturdy as the above mentioned products
Not enough containers
Kattonx  Wood Rack Plant Terrariums Kit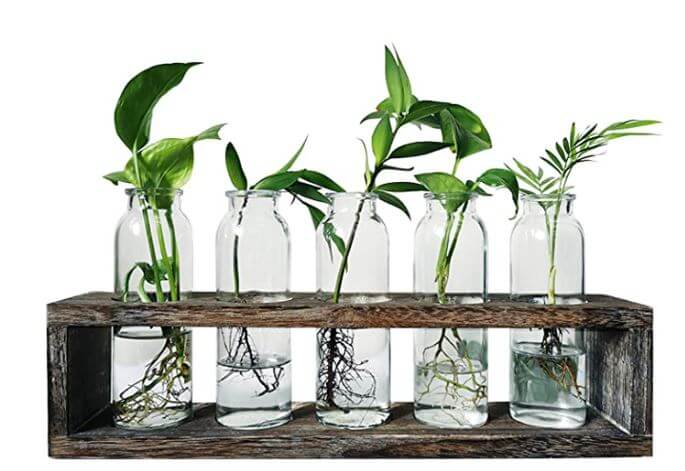 This propagation station is made with natural high-quality wood which keeps the tall glass vases secured in place. It's a sturdy product that's created from top-quality materials and it's easy to move around without having to disassemble or disturb the plants.
The best part about this station is that you can always remove the bottles from the wooden rack and place them in different places in your home, or you can keep them all together. While it's slightly bigger than most of the other stations on this list, it's attractive and a very easy-to-use product.
Pros:
Multifunctional
Easy to assemble and relocate
Glass vases can be used individually
Holds 5 containers
Cons:
We were unable to find any issues with this product.
Xutong Hanging Glass Planter Propagation Station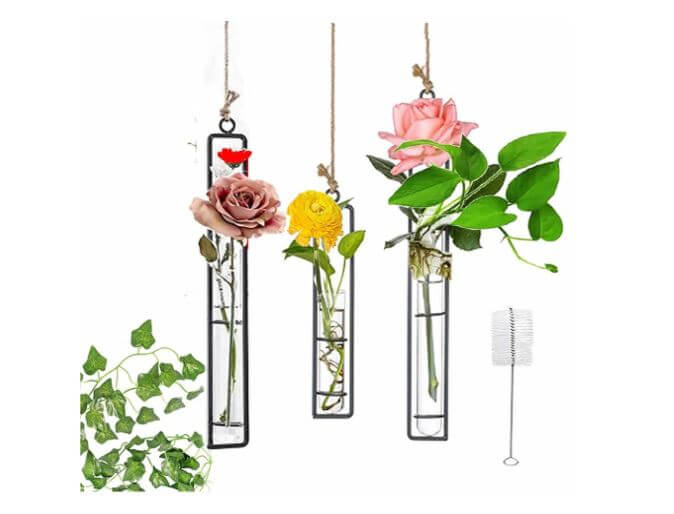 This station includes three separate glass test tubes secured in small metal frames. They can be hanged anywhere and as they're all different lengths, they look attractive and make beautiful indoor decorations.
This product can be used for various types of plants including creepers, shrubs, miniature ferns, and younger plants.
Pros:
Beautiful and elegant display
Easy to set up
An affordable product
Cons:
Cannot be placed on flat surfaces
Tubes may be too small for certain types of plants
Orimina Glass Plant Propagation Station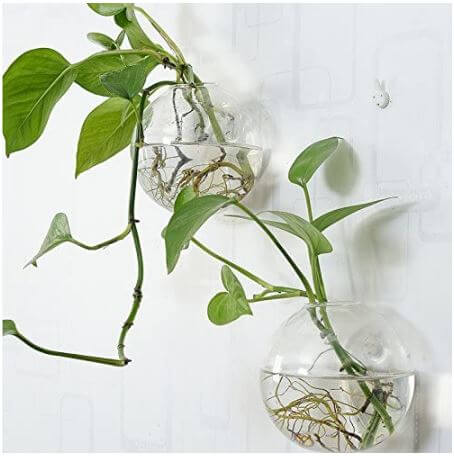 This station comes with 6 small, round planters which can be mounted to the wall with nails. The planters are glass balls that are perfect for any type of small air or water plant. This station doesn't require any horizontal space at all since it only takes up a little space on the wall. It's also an excellent option for vertical gardens as well.
Pros:
The planters can be attached separately
Hardly takes up any space at all
Cute design
Cons:
Hanging hooks are not strong enough
The glass is very fragile
Mounting the planters requires driving nails into the walls
Wrapping Up
The plant propagation stations on this list are just a few of hundreds of designs on the market. If you're not satisfied with the products in this article, you can always go down to your local garden store or search online to find something that will suit your gardening needs best.