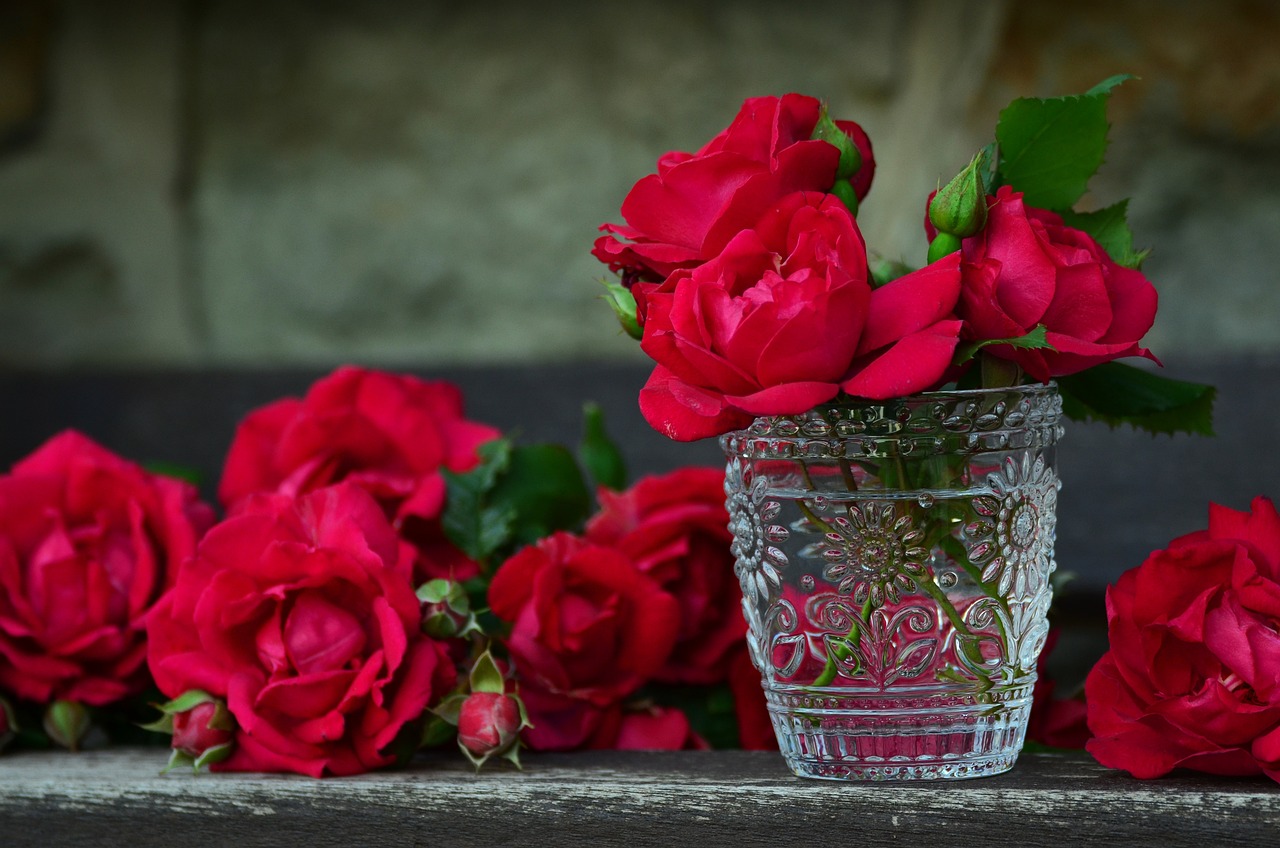 Red is considered the most striking color of a flower. While it symbolizes beauty, power, and passion, it's also popular for conveying love. Despite the commonality of a red flower, it never runs out of style. If you're looking for ideas on how to improve the ambience of your garden, or if you want to add a romantic touch on your next floral arrangement then red flowers would do the trick.
Here are 30 red flowers that you can grow in your garden.
Chrysanthemum (Chrysanthemum)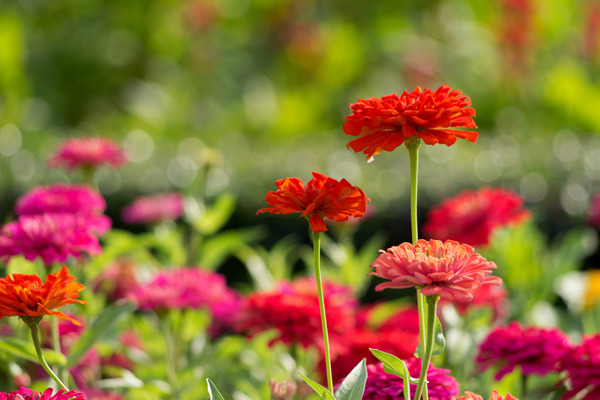 Chrysanthemum is a flowering perennial plant native to Asia and northern Europe. While Chrysanthemums are popular for their red color, different varieties also have different colors, sizes, shapes and even bloom types. Also called as 'Mums' chrysanthemums love direct sunlight and well-drained soil.
Tulips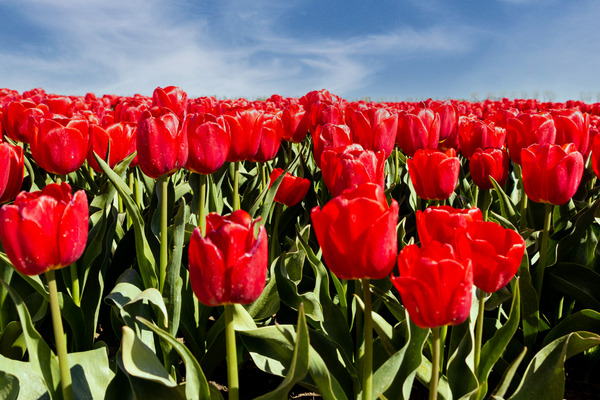 Tulips are popular for its large, cup-shape, and bright-colored flowers. It has around 75 species with countless hybrids that bring about different color options. Tulips are often given to loved ones to show ones deep and perfect love.
Freesia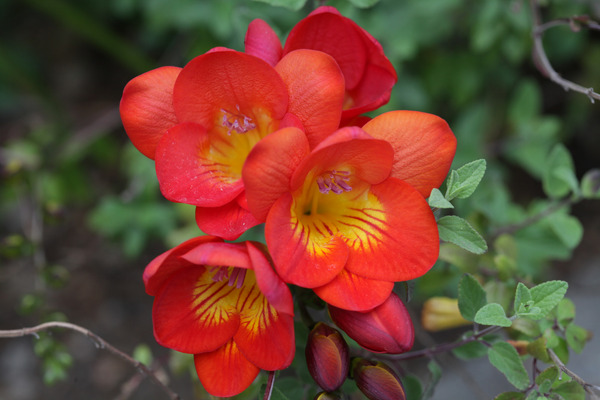 A native of South Africa, Freesia belongs to species of wildflowers with unique fragrance that resembles fresh strawberries. It is popular in floral arrangements due to its flower that is long-tubed shape and creamy red shade. While it is loved for its beauty, it is also cherished for its aroma.
Red Bush Monkeyflower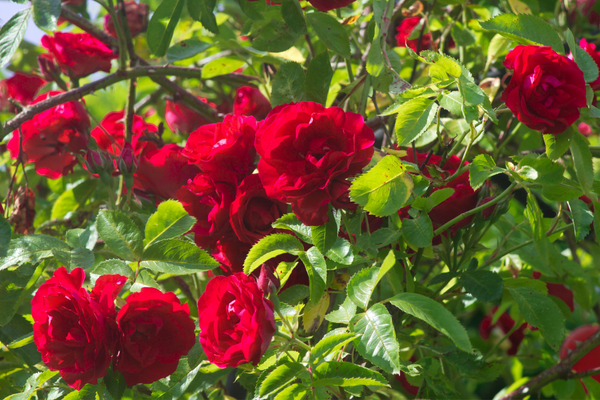 Another plant that produces red flowers is the red bush monkeyflower which is named after its flower shape that resembles that of a monkey. Its native to the coastal side and southern California. It has a reddish-orange flower and grows up to 2 feet tall. While it is popular for its beautiful flowers, its roots are also nutrient-rich and used to treat ailments such as fever, diarrhea, and others.
Bleeding Hearts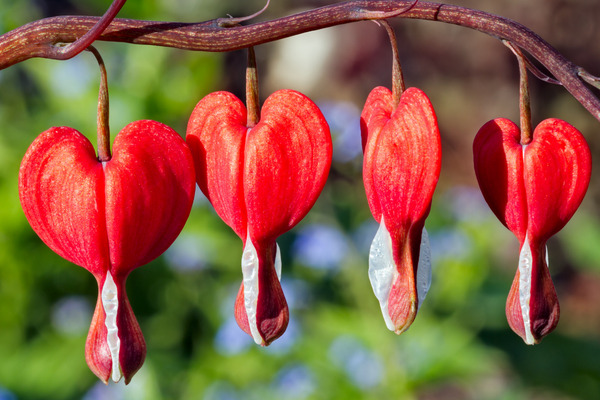 Another red flower that is loved for its heart shape is the bleeding- heart plant. As its name suggests, its flower is made up of heart-shaped blossoms hanging from a stem. Each blossom has a white petal protrusion that seems to drop – thus the name. These plants flourish during the spring and love to live in the shade.
Anthurium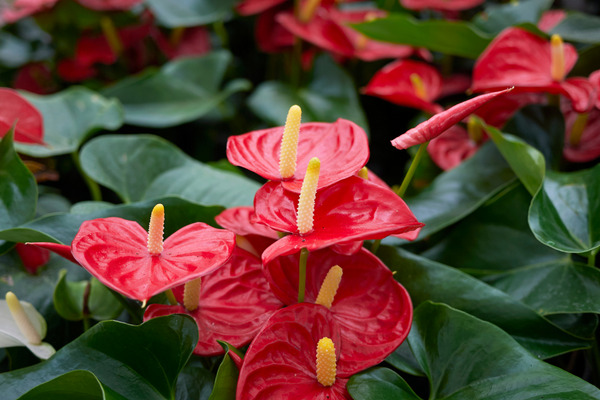 Just like the rose, anthurium is also known for its plethora of species and hybrids and its range of colors, sizes, and even scents. The anthurium is widely known for its single heart-shaped petal with an elongated protrusion in the middle known as the spadix. It's a popular indoor houseplant that's also low maintenance.
Hyacinth
A red flowering plant that belongs to the same species of bulbs such as onions and garlic is the hyacinth. It blooms in the spring and are easy to grow even under direct sunlight. Its trumpet-shaped flowers are cultivated to develop a range of colors and sizes. Native to the Middle East, the hyacinth is also cultivated across the Netherlands and France.
Begonia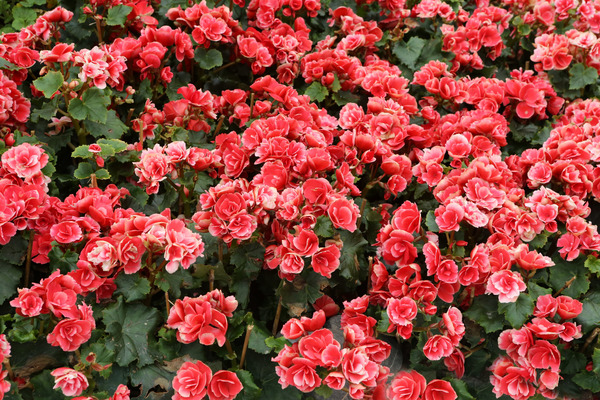 A red flowering plant that loves to thrive in moist and humid environments is the begonia. It has more than 2,000 species and hybrids with varying colors, shades, as well as sizes. It is among the traditional and classic type of houseplants yet one of the most loved because of its simplicity and easy handling. Begonia has two types – mainly the flowering the type and the foliage type that doesn't bloom with flowers.
Gaillardia
Gaillardia or otherwise known as blanket flower, is an American native flowering plant named after a French magistrate who is also a botanist. Its flower has a rich combination of colors ranging from red, white, yellow, maroon, and other shades. While it is easy to maintain and care for, it's short-lived and can be toxic to animals as well as humans.
Rose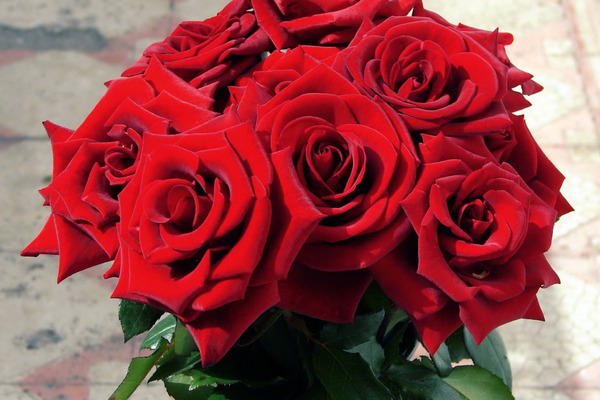 When it comes to red flowers, nothing beats roses. It is a classic symbol of romance and love. It has more than 2000 varieties which come in different colors, sizes, shapes, and uses which range from simply gifting to rose tea. While roses are adored for its beauty, it is also loved for its classic scent and its ability to be grown all-year round.
Amaranth
The amaranth plant is also a good flowering perennial to consider if you want red flowers in a variety of sizes and types. These flowering plants can be found across the globe and has a variety of uses aside from ornamental purposes and floral arrangements. It's mass-produced for its nutritional benefits and the production of dyes.
Coral Honeysuckle
Another red flowering plant from the United States is the coral honeysuckle with its scarlet firework-shaped or trumpet-shaped flowers. It's a popular flower used to attract small species of birds such as hummingbirds. It also draws insects such as butterflies due to its sweet fragrance. Unlike other plants mentioned in this list, the coral honeysuckle is a vine thus it requires a fence or something it can cling to as it grows.
Gerbera Daisy
Gerbera daisy is another red flowering plant endemic to Africa and are also commonly called African daisies. It's among the species of large flowers with petals having bright colors that includes red. The gerbera daisy is a popular ornamental flower and is among the top 5 cut flowers in the world because of its beauty and long stem.
Hibiscus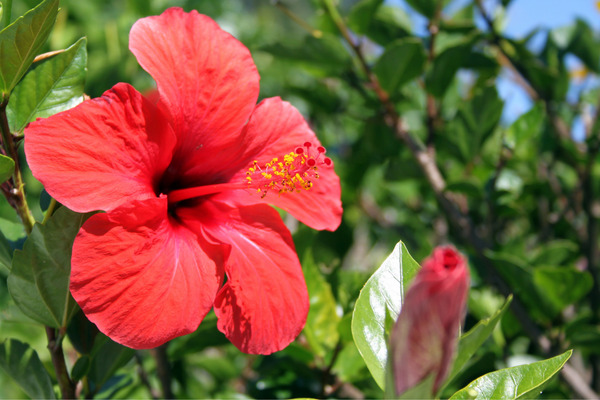 Attractive to both animals and humans, the hibiscus is a red flowering plant found in tropical areas. It blooms flowers that are trumpet-shaped and exotic looking which attracts hummingbirds as well as butterflies. While hibiscus is loved for its showy flowers, its petals are actually used as medicinal herb and tea.
Tickseed
Tickseed is another popular red flowering plant because of its range of color variations. It's known for its thick and bushy foliage and continuous blooming in summer and early fall. Tickseed is a fast growing plant as well as one that's easy to grow and propagate since it uses rhizomatic root system through underground spreading. These are easy to grow in well-drained soil and direct contact to sun.
Scarlet Beebalm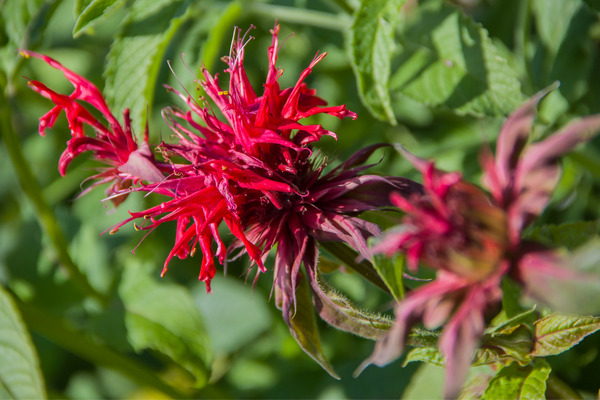 A red flowering plant that is loved for its distinct aroma is the scarlet beebalm. It's a perennial plant native to North America and blooms peculiar flowers having tubular petals that often gives the impression of a flower from another planet. The aroma leaves a hint of sweet and citrusy scent which is like oranges. Popular for its peculiar look and unique aroma, it's also sought-after as medicinal herb.
Cockscomb
Popular for its flower that looks like a cock's comb, this flower from South America and Asia is a prized ornamental plant. While it is loved for its rare beauty, it's also an edible plant and has high nutritional value. Its red variety resembles a flame which is why it's also given the name Keleos, which is a Greek word for flame.
Egyptian Stars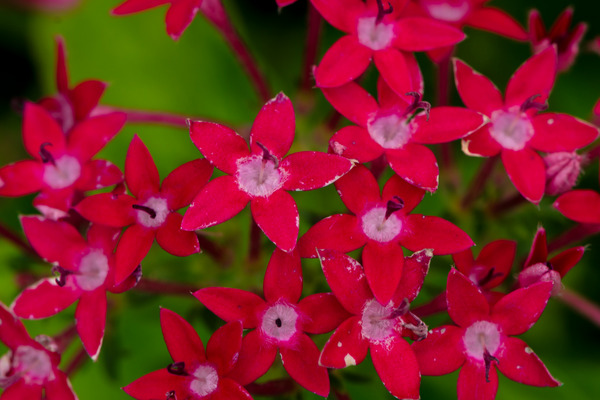 Egyptian Stars, also known as Egyptian star cluster, is a red star-shaped flower having white centers with long stems. It blooms continuously during the spring to late summer and usually grows from 2 to 6 feet. It's native to Africa, Madagascar, and Arabian Peninsula with more than 16 species available today.
Pineapple Guava
One fruit-bearing plant that blooms with bright red flowers is the pineapple guava. It's native to South America and is popular not only for its fruit but also for its fragrant and showy red flowers. While the flowers are mainly used for ornamental purposes, they're also edible and have a sweet as well as spicy flavor.
Chocolate Cosmos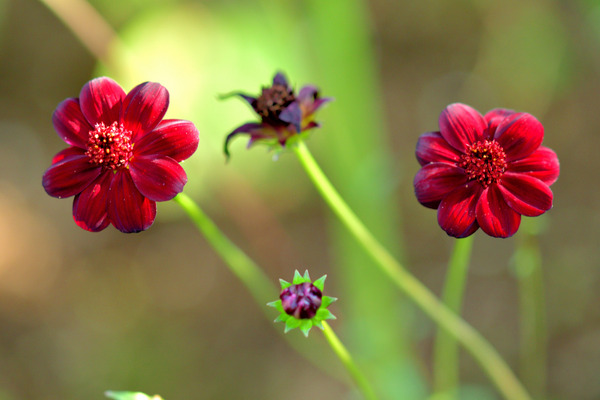 The chocolate cosmos is another must-have red plant due to its look and especially its scent that makes it smell like a velvet cake. Its velvety petals along with its dark centers makes it a popular centerpiece in floral arrangements. Chocolate cosmos love to bask under the sun and are quite easy to maintain. These daisy-like flowers originate from Mexico but can now be cultivated anywhere provided the environments are favorable.
Red Sunflower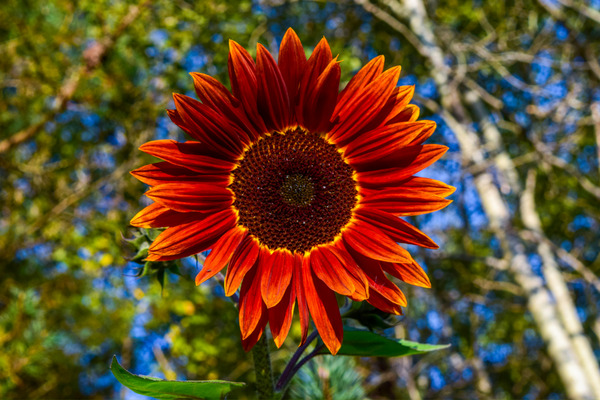 Red sunflowers are quite a spectacle because of its size and because of its rarity since most sunflowers have a yellow color. It's an American native plant and is a popular ornamental plant due to its size, long stem and its impressive longevity which can last for a months. Also, the seeds as well as the young buds are edible.
Red Trumpet Creeper
The red trumpet creeper is a vine that grows to lengths of 10 meters. It's an Eastern United States native which can now be grown anywhere given proper environment conditions and care. Its bright trumpet-like flower attracts insects and birds especially hummingbirds and bees. Aside from its showy flowers, it's also loved for its bright-green foliage.
Gloxinia
Popular for its bright red showy petals with white ruffles is the gloxinia. Gloxinias love bright light but not directly coming from the sun. It's a popular indoor plant which originated from Andes, Central America as well as the West Indies. It's mostly used for floral decorations because of its lush rosettes of foliage combined with clusters of flower blossoms.
Red Dahlia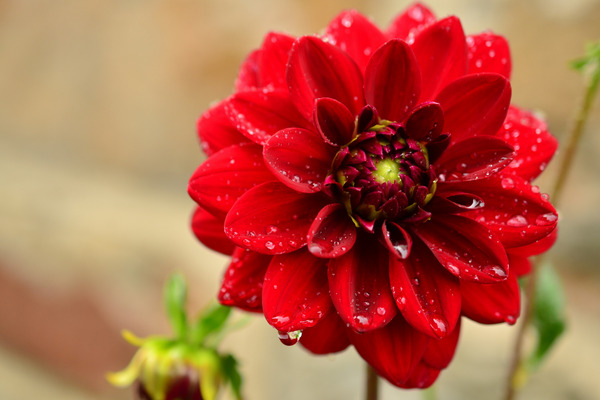 A Mexican perennial flowering plant, the red dahlia belongs to the plant family of aster or daisy. While the red dahlia possesses floral beauty with a range of sizes and colors, it's also popular for its tuberous roots that are nutrient-rich.
Red Black-Eyed Susan
A smaller look-alike of the sunflower is the red black-eyed Susan with its thinner petals and smaller size. Native to North America, red black-eyed Susan's can grow to heights of 1 to 3 feet with its flowers having diameters of 2 to 3 inches. Just like sunflowers, this flower loves sunshine and are quite easy to propagate in a garden setting.
Camellia
The camellia is a tropical flowering plant which is native to Southern Asia and the Himalayas. It is popular for its red-pink shade of flowers and various sizes. While it's loved for its beauty, it's also commonly sought-after because of its distinct taste and aroma as beverage tea. It also produces oil that can be extracted from its fruit which is used for cooking.
Crown of Thorns
A succulent plant that can be grown indoors and bloom red flowers all-year round is the crown of thorns. With its thorny stem and bright green foliage, it blooms bright red cluster of small flowers. Seeing that it belongs to the succulent species, it requires less water and more exposure to the sun. While it originated in Europe, it's also grown in the Middle East as well as Madagascar.
Peruvian Lily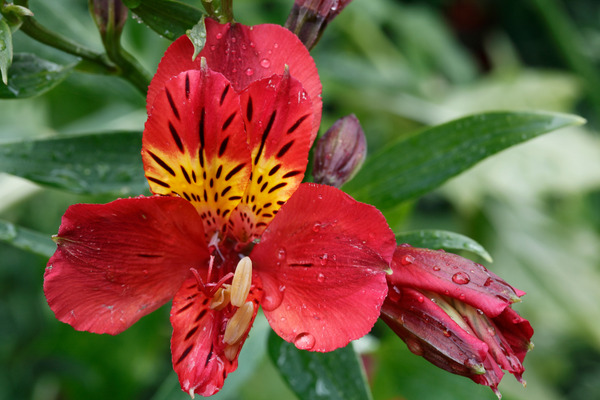 Another red flowering plant with long stalks or stem is the Peruvian Lily. It blooms flowers from spring until summer and is a loved ornamental flower because of its dramatic blooms as well as array of meanings depending on its color as well as size. Interestingly enough, each of its six petals symbolize different characteristics such as respect, patience, empathy, commitment, humor, and understanding.
Maltese Cross
The Maltese cross or otherwise known as the flower of Bristol is native to Asia and Silene and is a popular ornamental plant. It's loved for its thick stems and its globe-shaped clusters of flowers. The Maltese cross got its name from its four petals that form a V-shape that intersect each other much like a cross.
False Goat's Beard
The false goat's beard is an herbaceous perennial plant that comes in many varieties. It's native to Asia and North America and are known for its form that resembles a goat's beard. Each flower has a feathery texture with a bright color. False goat's beard plants are low maintenance plants and are easy to propagate in any environments.
The Wrap Up
There is a plethora of choices to consider when thinking of red flowering plants to have in your garden. All the plants mentioned in this list has a basic to intermediate level of handling and care requirement which is beneficial for any starting gardener or florist. Furthermore, the flowers mentioned in this list can be grown indoors and outdoors and has manageable sizes and heights. Regardless of your choice in this list, you'll have the right red flowering plant that matches not only the environment but also your personality.