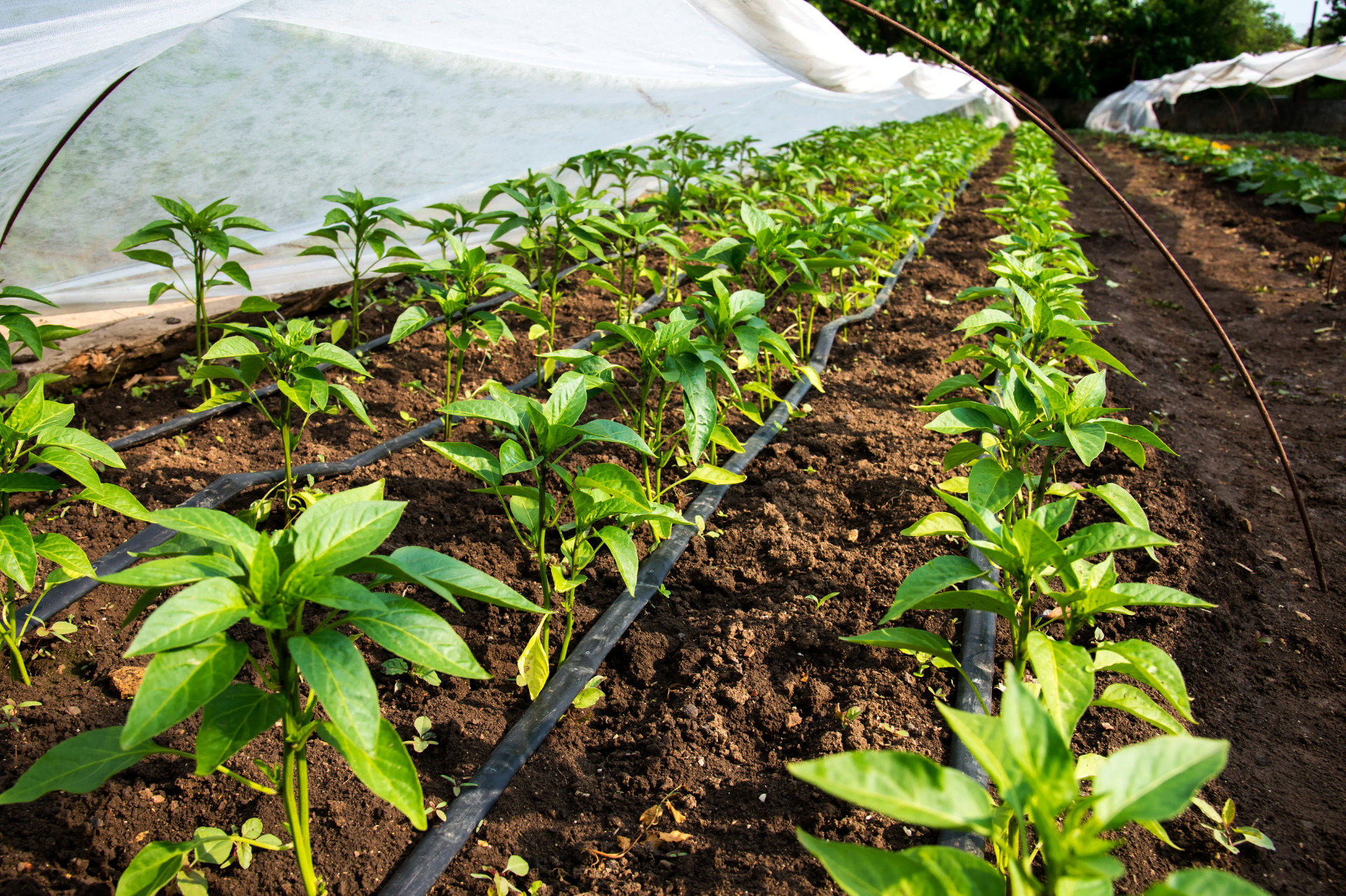 Every year about 70% of the world's water is used for agricultural purposes due to which many gardeners prefer to use drip irrigation systems. These systems are highly efficient when it comes to watering gardens, crops, and lawn. They're environmentally friendly and easy to set up if you choose the right one. Unlike manual watering, they can also conserve large amounts of water which will help you to cut down on your energy and water bills.
If you're having trouble choosing the right drip irrigation system for your garden, we've got you covered. In this article, we've rounded up a list of 8 best drip irrigation systems available on the market right now. Let's take a look.
What is Drip Irrigation?
Drip irrigation is a micro-irrigation method that's designed to water the crops with less water pressure in contrast to generic watering techniques. Instead of spraying or flooding the ground surface with a large amount of water, drip irrigation systems allow the water to drip onto the plant roots directly without any wastage.
Best Drip Irrigation Systems on the Market
Due to the high demand, there are hundreds of drip irrigation kits you can find online. It can be tough to find one that fits your needs perfectly from all the available options. Here are some of the best options available on the market right now.
Carpathen Drip Irrigation Kit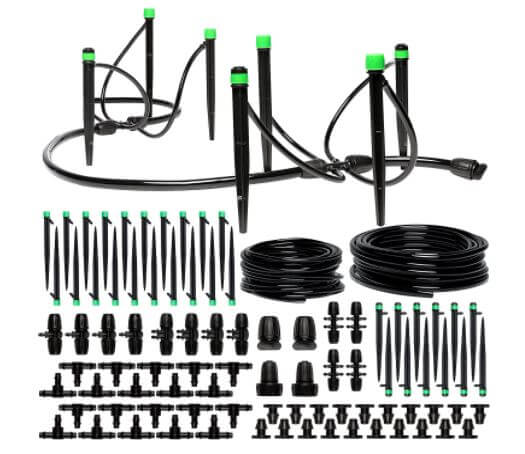 This irrigation system is made with high-quality UV-resistant, heavy-duty plastic materials which make it very durable. It can be installed above or underground and the flexible tubing allows it to be moved around easily.
This system comes with all the pieces required to set it up. It's designed to work with a water pressure of 20 to 45 PSI and delivers up to 60 gallons per hour per emitter. The product comes with a complete guide of instructions that makes the installation process super easy.
Pros:
High quality materials
No batteries required
Easy installation
Affordable product
Cons:
We couldn't find any obvious cons to this product
Ruixin Drip Irrigation Kit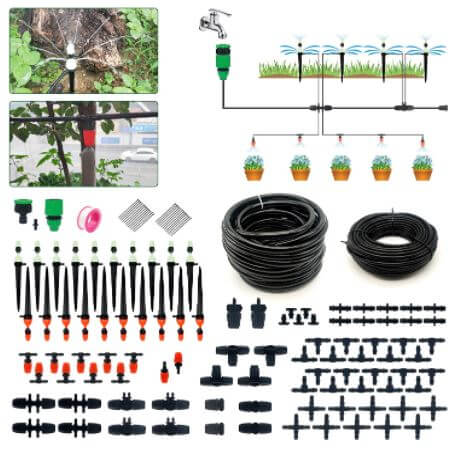 The Ruixin drip irrigation system includes 10 different types of connectors and 140 kits to meet your needs. It's perfect for watering raised plant beds, greenhouses, lawns, patios, cooling the roof, and filling the swimming pool. You get 3 different kinds of sprayer nozzles that can be adjusted individually.
This kit can be installed very easily and includes an instruction manual that tells you everything you need to know. Anyone can set it up, and you don't need expert plumbing skills for this.
Pros:
Excellent durability
Easy to assemble
3 types of sprayer
Can divide water to 40 tributaries, increasing the pressure
Saves up to 70% of water
Delivers the right amount of water right where your plants need it
Cons:
Doesn't have a hole punch tool for the main tubing
Parts are not compatible with most of the other brands. So, difficult to expand and replace
Raindrip SDGCBHP Automatic Ground Cover & Flowerbed Kit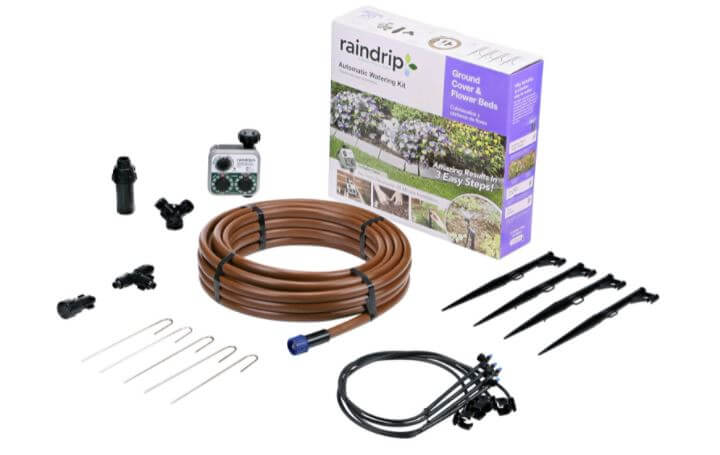 This irrigation system comes with most of the parts assembled so you only need to put it together in three easy steps and start using it. It's very convenient to use and the whole watering process can be automated thanks to the timer and the pressure regulator that come with it.
Unlike most other drip irrigation products, this system is easily expandable as it fits with most of the standard parts such as feeder tubes and additional sprinkler heads. You can water up to 200 square feet with this system which is a fairly large area to cover. The entire system is made from low-density polyethylene, which can resist the effect of the elements so you can leave it out all year round, bury it, or keep it on the surface of the soil in any weather.
Pros:
Easy installation with pre-assembled parts
Innovative design
Easy to customize and expand
5-year limited warranty
Easy to operate
Weather-resistant
Cons:
Blumat Drip System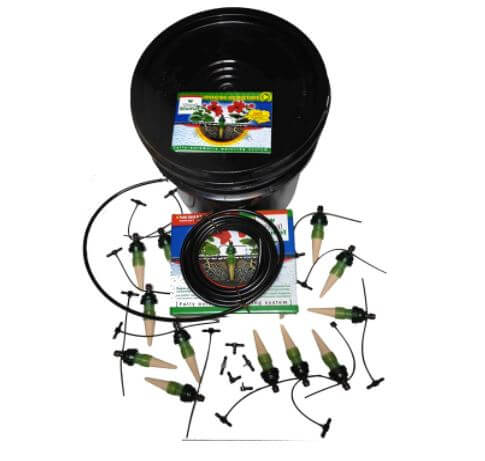 Blumat Drip system is a 12-pack kit that includes a water reservoir. Made of high-quality material, all the pieces in this kit are highly durable and can be used for a long period of time. The amount of water supplied is controlled by a small adjustable knob that provides each plant with the right amount of water.
This drip irrigation system doesn't need any batteries or electricity to operate it, so you won't have to experience system failures due to defective batteries or power outages. The water reservoir makes it easy to use and eliminates the need to keep a constant lookout for the water supply.
Pros:
Made with high quality material
No pumps or batteries needed
Includes a reservoir
Slow watering
Versatile usage
Gravity fed
Cons:
Can leak
The size of the reservoir is somewhat small
Expensive in comparison to its competitors
Instructions for assembling aren't clear enough
Rain Bird GRDNERKIT Drip Kit
This drip irrigation kit comes with everything you need to install it.  It can easily cover up an area of 75 square feet which means in comparison to its competitors, it provides good coverage for gardening and landscaping areas.
The kit also includes specially designed pressure compensating emitters that make the drip heads resist clogs. Due to this, it gives your plants an end-to-end watering supply. Expanding and customizing this system is not difficult, since most of the standard parts on the market will fit.  
Pros:
Good coverage
Simple installation
Includes a tool for insertion and removal of fittings
Designed to resist clogging
Cons:
Can leak
The hose can pop off sometimes
The fittings are of poor quality
Orbit 69525 Micro Bubbler Complete Drip Irrigation Watering Kit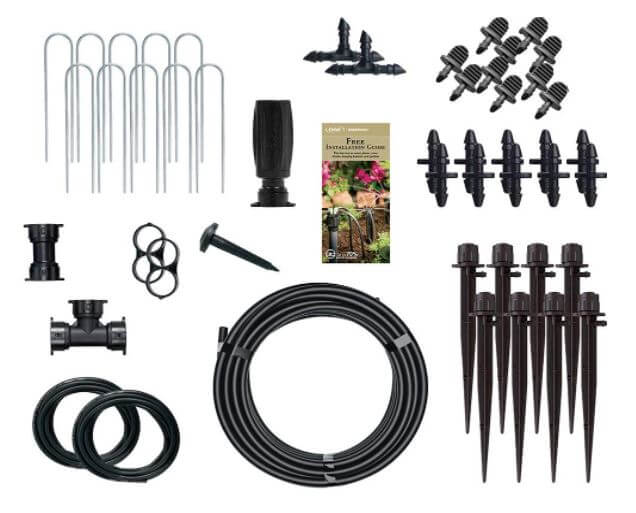 The Orbit micro bubbler drip irrigation kit can be described as an all-in-one system that can be assembled and installed in a few minutes. This kit consists of micro-bubbler placements that are ideal for watering delicate and small plants. The gentle watering technique will also prevent and minimize the growth of weeds since the bubbler placements help to aim the water flow straight at the plants. As a result, there'll be no spreading of water around the ground and towards weeds.
This kit can cover a huge area of 250 square feet which makes it suitable for bigger gardens and landscaping. With its flexible tubing, this system can be manipulated around or between any structure or barrier easily.
Pros:
Easy to use
Flexible tubing
Customizable system
Good coverage
Cons:
Can have leaks
Adjusting the flow rate can be difficult
Bearbro Garden Drip Irrigation System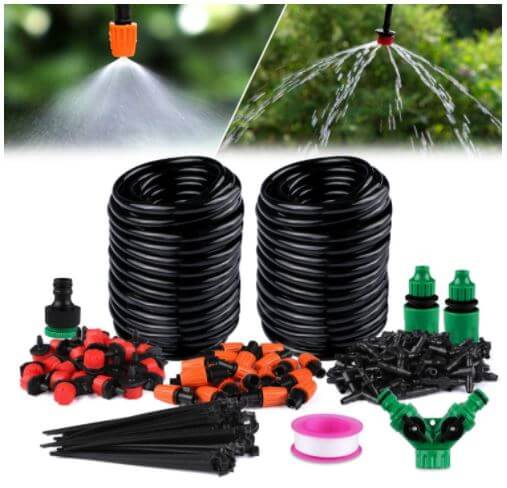 The Bearbro garden drip system is known for its affordability and quality. Made with top-notch materials, the system can resist any climate conditions such as heat and cold.
Every water spray nozzle that comes in this kit rotates 360 degrees. It can be adjusted easily for a better and controlled water flow. Since each sprayer is different in design, watering can be customized according to the needs of your plants.
Pros:
Affordable prize
Simple to operate
Versatile use
Highly customizable
Easily adjustable water flow
Plenty of pieces in comparison to similar products
Cons:
Assembling can be complicated and time-consuming due to many pieces
MIXC 226FT Greenhouse Micro Drip Irrigation Kit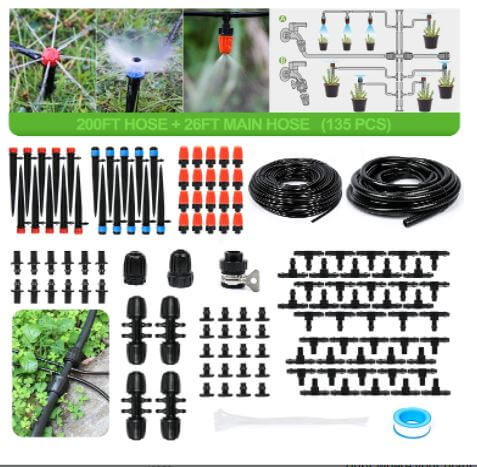 This micro drip irrigation system comes with 4 x 6-way connectors which can divide the water flow up to 16 streams. This helps increasing the water flow gradually and effectively from beginning to the other side. So, this irrigation system won't cause a problem of lack of water by the time the water flow reaches the end.
This kit is highly expandable as it can be combined with some other external parts or structures most of the time. The hose is highly flexible which make it very easy to handle it. This system highly functional since it can be used to water any kind of gardening and landscaping premise.
Pros:
Innovative design
Bigger coverage in comparison to its competitors
Simple installation
Versatile use
Flexible hose
Cons:
The tube can pop off without a pressure regulator
Might need supplemental pieces
Some drip heads can be clogged
The Take Away
A well designed, quality drip irrigation system can always meet the needs of your plants effectively, by delivering the right amount of water at the right pace. Due to this, in contrast to traditional watering systems, drip irrigation helps the plants to flourish and thrive while saving a considerable amount of water and time.
But, not every drip irrigation system is suitable and ideal for every gardening and landscaping structure. That's why it is important to examine and compare each product carefully before buying it. By doing so, you'll be able to find a drip irrigation kit thats worth the price and your effort.