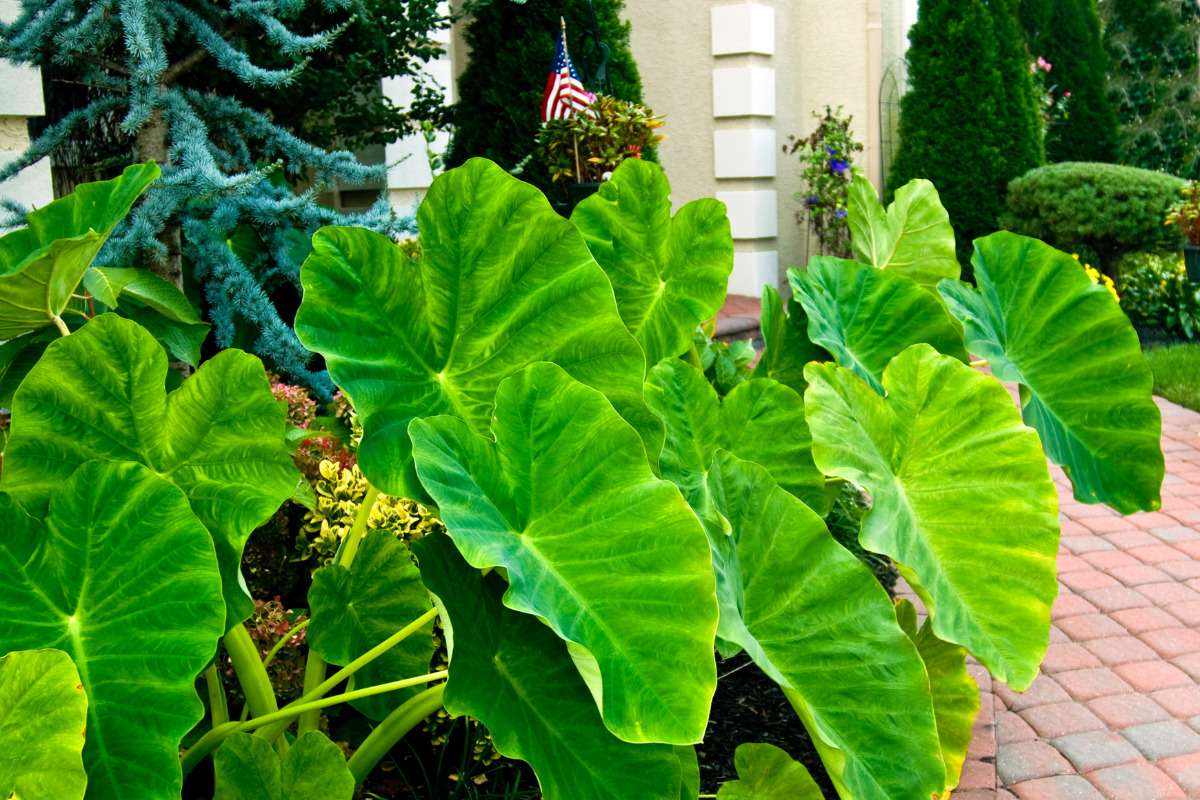 The Elephant ear plant is a tropical perennial popular for its large foliage. It is called elephant ears because of the size of its foliage. Popularly known as "Taro" in many countries, the leaves of the elephant ear form the shape of a heart with veins extending from the middle to the sides. They also come in varying colors.
The Elephant ear plant can bring tropical nature to your home. If you're looking for the best types of elephant ear plants to grow indoors or in your garden, here are 8 most popular types of Elephant ear plants that you can consider.
Colocasia Esculenta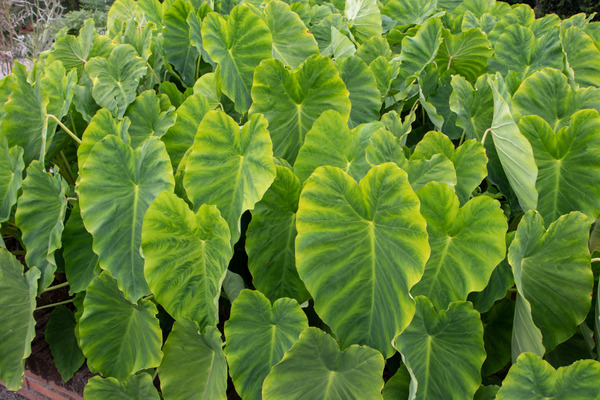 Among the most popular types of Elephant ear plants is Colocasia Esculenta. This Asian native elephant ear is a perennial plant having long stalks of around 1 to 2 meters and leaves having widths of 2 feet. While this variety of Elephant ears is not ideal to grow indoors due to its size, it is an excellent eye-catcher in gardens that leaves a tropical effect for a garden. 
Black Magic and Diamond Head
If you're looking for a dark shade of color as a feature plant for your garden, then the black magic variety of elephant ear would greatly match your needs. It sets off a dark purple or dark red color for its leaves which is very noticeable. Although the name is called black magic, the color isn't actually black but a dark shade of color. This variety of Elephant ear is a perfect background or ground cover.
Another elephant ear variety that looks exactly like the Black magic variety is the Diamond head variety. While the leaves of the diamond head also have a dark shade, the leaves are more glossy or shiny.
Hawaiian Punch
Another glossy variety of Elephant ear that is much like the Diamond head is the Hawaiian Punch. It has lime-green colored leaves with dark veins and stems just at the back and below the leaf. It grows to heights of 2 to 3 feet which is much smaller than the other varieties of elephant leaf, however its glossy and shiny leaves make it a common preference over other varieties.
Mojito
If you want your Elephant ear to have a range of patterns, then the Mojito variety is just the right choice for you. What makes this variety unique aside from its patterns of dots and black-blue dashes on its foliage is that no pattern is the same on every leaf. So the Mojito is an attractive feature plant where every leaf has a different pattern and design from the other.
Mojito varieties of elephant ears grow to around 2 to 3 feet which is smaller than most varieties thus making them a usual preference for indoor gardening.
Caladium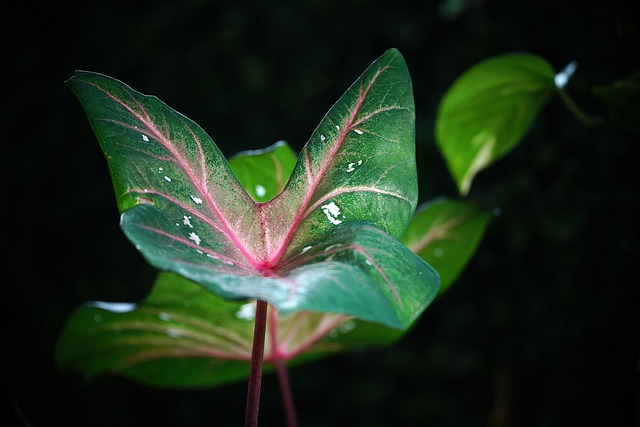 If you prefer the rather smaller type of elephant ear that has many color varieties then the Caladium Elephant ear is a terrific choice for you. It is loved by many indoor gardeners because of its arrow-shaped, paper-thin, and colorful foliage. Its leaves are so colorful and bright that it even intimidates other varieties of flowers.
Caladium Elephant ears can have spots, marble shades, veined patterns, and colors such as red, green, pink, and white. Heights can range from 1 to 2 feet.
Illustris
What's unique about the Illustris variety of Elephant ear is that the foliage is covered with purple-black shading while the veins along with the petioles are bright green in color. These combinations of colors create a beautiful contrast on the whole plant. Placing this plant alongside the window with good exposure to sunlight intensifies its colors.
Teacup
Most Elephant ear plants have leaves pointing downward but the Teacup variety of Elephant ears comes with foliage that is curved and pointing upwards to form the shape of a teacup – thus the name.
During rain, watching the Teacup elephant ear under the rain is quite a spectacle as it moves like a mechanical device that fetches water. Every time the leaf is filled with enough water, it bends or bows down due to the weight and pours out the collected water.   
Pink Symphony and Rose Glow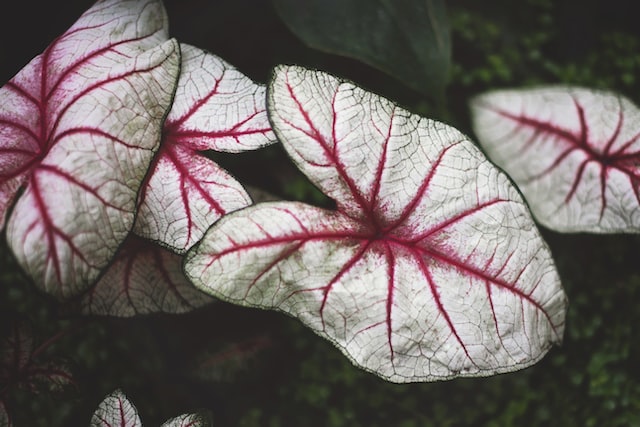 Somehow when it comes to flowers and beautiful plants, the color pink always comes to mind. If you want your elephant ear in pink color then you can opt for the pink Symphony elephant ear. As its name suggests, it features a pink color surrounded by green color on its leaves.
Another elephant ear variety that is all about pink is the Rose Glow variety. It has a bright pink center adorned with white edges. More white areas start to develop around the leaf as the plant matures.
Compared to other elephant ear varieties, the Pink Symphony and Rose Glow have smaller leaves as well as shorter stems which makes them an ideal indoor elephant ear variety. Usually grows up to 14 to 16 inches in height and leaf width. 
Elephant Ear Care
Before you head out to buy any variety of elephant ear, it is important that you have a good idea of its care needs.
Taking care of elephant ear plants is straightforward. Make sure that the soil is constantly moist or damp by watering it every morning. These species of plants are native to southeast Asia where the soil is mostly damp or moist. While maintaining moisture around the soil, it is also important to add slow-release fertilizer once a month.
Whenever you see browning or drying around the leaves, make sure to cut or trim it out to avoid contaminating the whole leaf.
Tuber varieties can be left on the ground for a whole year and surrounded with mulch during fall to keep from frosting. With regards to lighting, elephant ear plants can live with both direct and indirect sunlight depending on their variety.
Wrapping Up
We have only highlighted some of the best types of elephant ear plants here. There are still a lot of other varieties of elephant ear plants to discover out there. Growing a few in your garden or within your home greatly enhances the aesthetics, mood, and ambiance of the space, room, or garden. Although they're perennial, they still require a specific amount of care and maintenance.