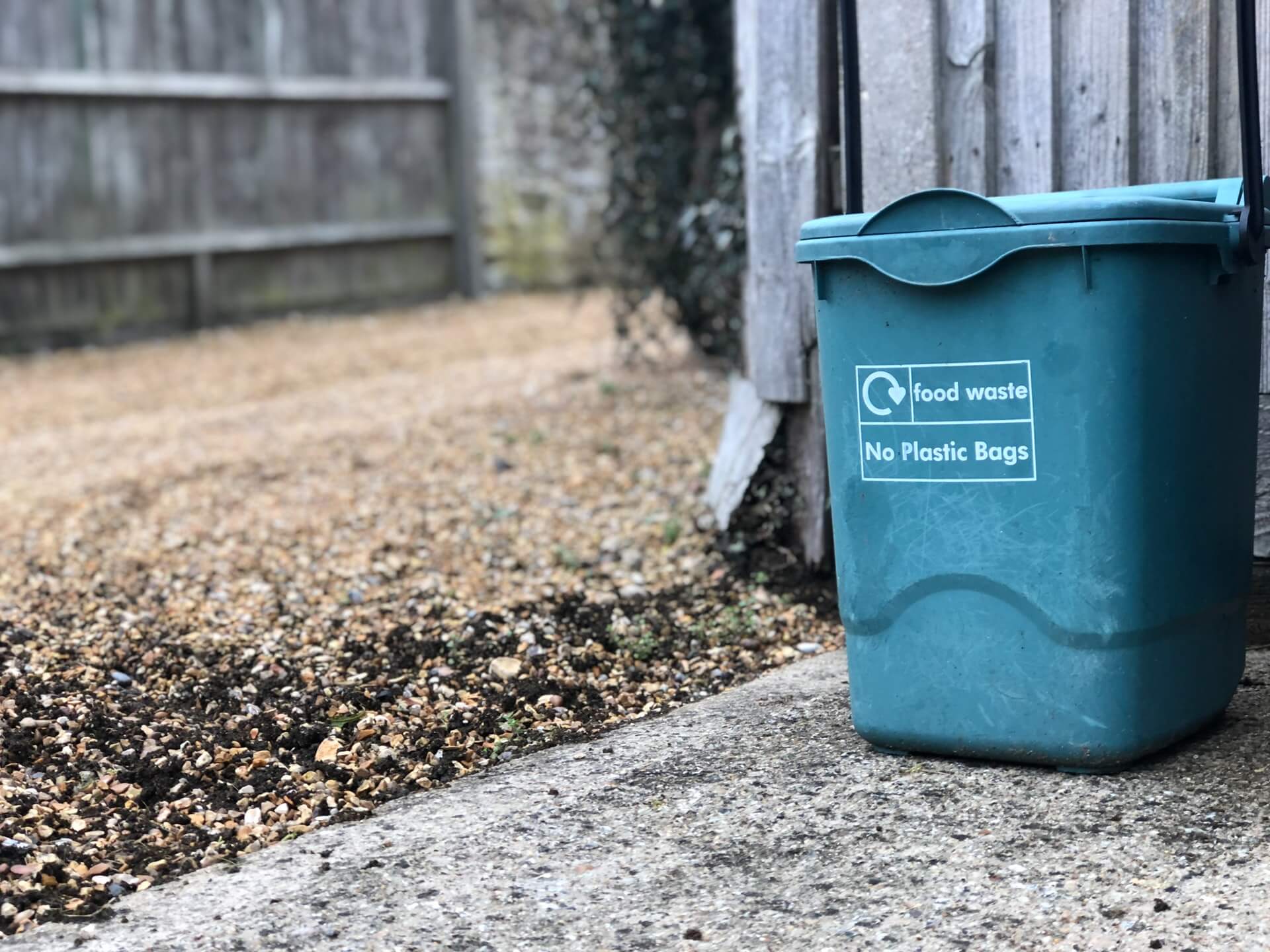 It's a well-known fact that the best organic fertilizer you can supply your plants with is homemade compost. However, due to the lack of enough space or time, a lot of people aren't very keen on the idea of making compost at home.
This is where an outdoor compost bin can help you. Not only will it provide you with a solution for getting rid of your organic waste pile, but it will also help you with the tiresome process of collecting, making, and storing your compost.
If you're interested in buying a compost bin for your garden, we've got you covered. Here's a list of some of the best outdoor compost bins available on the market today.
Buying an Outdoor Compost Bin
When it comes to purchasing an outdoor compost bin, it's important to take quality, durability, and versatility into consideration. The following products were chosen for this list after a thorough review of their size, price, type, use, material, and even the different built-in features which make each of them unique and versatile. Let's take a look:
1. Ejwox Compost Bin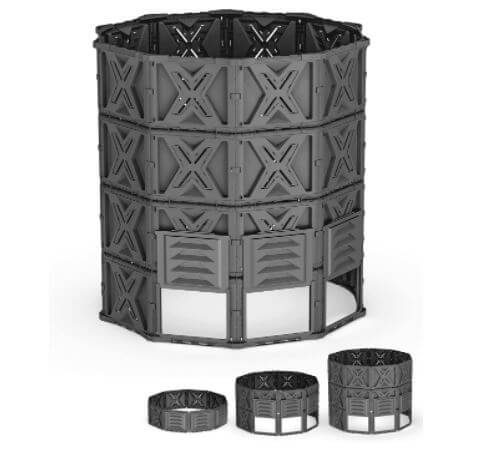 This outdoor compost bin is designed with four air vents, one on each side, to allow oxygen into the bin. They aerate your compost pile for better fermentation.
What we liked about this bin was that its shape can be easily changed and it can be expanded when necessary. This means that you can customize the bin according to the quantity of your compost pile and where you intend to place it.
It also features three fertilizer doors that make it easier for you to take out the compost and the package includes a rain-proof cover that you can use to cover the top of the bin when it's raining.
Pros:
Closed-loop composting
Comes with a separate waterproof cover
Good aeration system
100% recycled, UV resistant durable material
Four air vents
Three fertilizer doors
Can be expanded
The shape can be changed according to your needs
Cons:
The lid cannot be locked so it can attract insects and birds
2. DF Omer Garden Composter Bin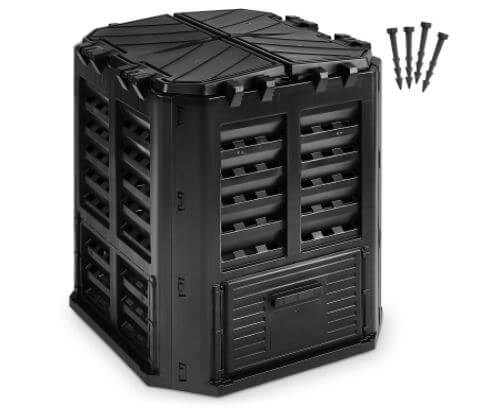 The Omer Garden composter bin has the ability to maintain heat and regulate the moisture inside, creating the perfect environment for composting. It's designed in a tower-like shape and is very easy to set up using the four stakes that are included in the package.
This bin has tight doors with built-in holes so that they can be padlocked easily. There are narrow ventilation openings on each side that can prevent rodents from getting into your compost pile.
Pros:
Heat-maintaining and moisture-regulating black pp plastic material
Tower design
Simple to install with included 4 stakes
2-year warranty
Padlock-ready doors
Rodent-proof openings for ventilation
Cons:
Have to cut away a piece of plastic from a side to add the access panel
Stakes are not very strong
Lid is not secured
3. Redmon Compost Bin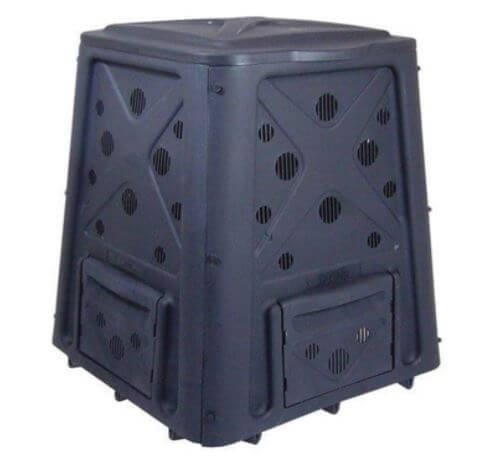 This bin is made from high-quality weather-proof material and can withstand extreme heat or cold. It's very easy to put together and doesn't require any tools. Its design allows it to stand firmly on the ground without any danger of tipping over and the bottom of each side has an access door for you to get compost out conveniently.
Although its snap-on lid is another advantage of this compost bin, many users have stated that since the top cover is not attached to the bin, removing and putting it back together can be a nuisance and time-consuming.
Pros:
Buying options – a single container or a pack of four containers
Snap on lid
4 access doors
No tools needed for assembling
Weather-proof material
Compost can be turned and flipped easily
Composting guide included
Cons:
Lid is not attached to the bin
4. Bosmere Wire Compost Bin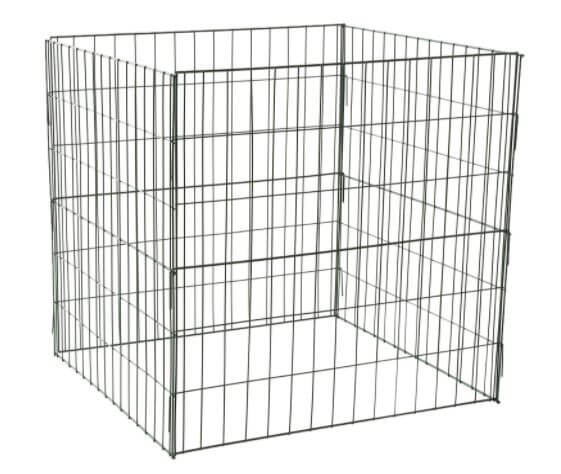 This outdoor compost bin has a minimalistic design, created by using steel wire material. The wire is coated with plastic to make it rust-free and more durable. It's very easy to set up and uses and it doesn't need any kind of supportive stakes or holders to make it stand firmly on the ground.
The front access door of this bin is located at the bottom and can be opened effortlessly to take out the well-fermented compost. Though some users have complained about compost falling out through the mesh, many have rated this product as a good outdoor composter with higher functionality.
Pros:
Plastic coated steel wire material
Easy to erect and use
Durable
Easy front access
Large capacity
Mesh design for a well air flow
Cons:
5. Jaocdoen 2-Pack Garden Compost Bags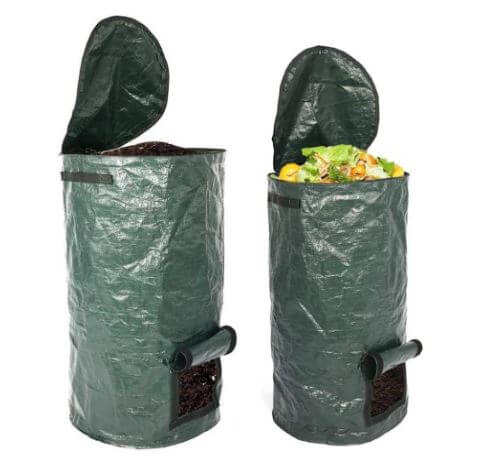 This product comes as a pack of 2 compost bags made from PE material. The bags are resistant to corrosion that can occur due to extreme weather conditions, which makes them ideal for outdoor composting.
These compost bags have handles on both sides which makes them easy to move around and lift. They're multifunctional and practical products that can be used storing and making compost. Although users have praised this product on its good portability, some have complained about not having enough capacity for bigger outdoor composting purposes.
Pros:
Comes as a pack of 2
Weather-proof
Corrosion-resistant
High quality thickened PE material
Sturdy handles
Simple cover with a zipper
Reasonably priced
Cons:
Lack the ability to stand more firmly in comparison with similar products
Not ideal for large amounts of compost
6. Geobin Compost bin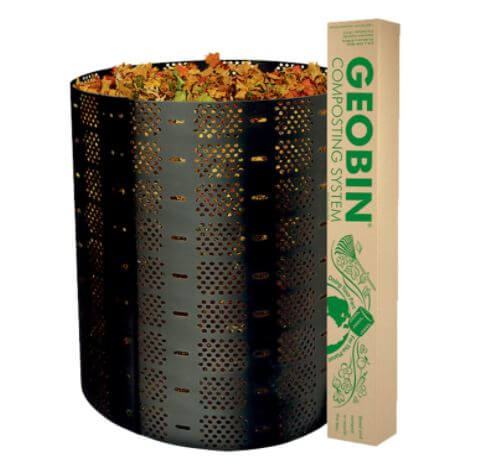 This compost bin from Geobin has a capacity of 246-gallons, which is much more than most other outdoor compost bins on the market. It can be easily assembled and if you want to take it down, all you have to do is flatten it out and store it away.
The downside of this compost bin is that it doesn't come with a top lid or a cover which means that your compost will be exposed to the elements and attracting creatures. On the other hand, it's a good quality, heavy-duty product that comes at a reasonable price.
Pros:
Easily expandable design
246-gallon capacity
Affordable
Sturdy
Heavy-duty
Simple set up
Easy to take down and store
Cons:
7. Tierra Garden Thermo King Composter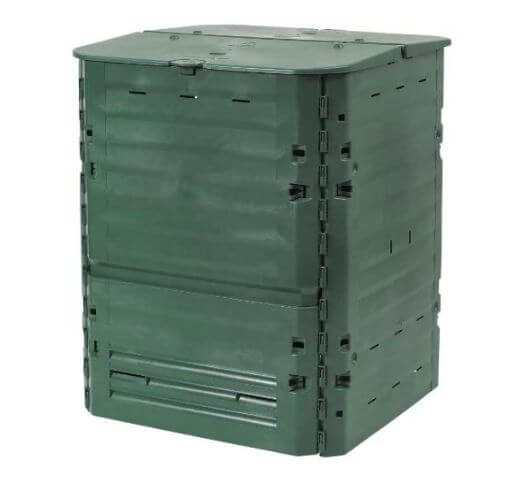 This product comes in 2 convenient sizes and is made from UV-resistant polypropylene material which is 100% recyclable. It has two large flaps on the top instead of a single lid, which gives you enough space to handle your compost.
The bin comes as separate panels that can be easily assembled due to the panel-snap technique. While this composter can sit directly and firmly on the ground, it's designed with wind-proof latches which keep it airtight.
Although this compost bin is versatile and easy to use, it's quite pricey compared to most of the other products on this list.
Pros:
Available in 2 sizes
UV resistant polypropylene material
Two large top flaps
Easy filling
Easy assembling with panel-snap technique
Wind-proof latches
Folding bottom exit door
Sits directly on the ground
Cons:
The fastener clips are not extended to the lid
8. Squeeze Master Compost Bin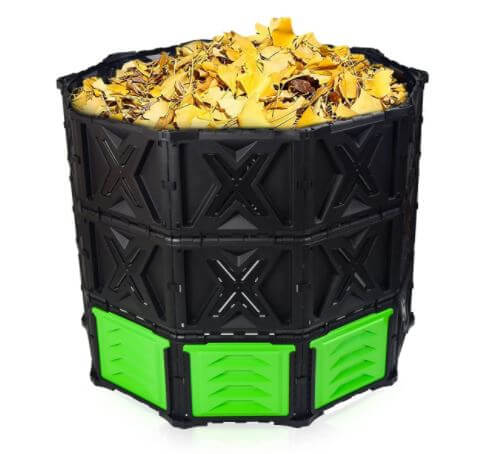 This compost bin is made of modified PP material which is BPA-free, meaning that it won't add any toxic chemicals to your organic compost pile. It features x-shaped air vents which allow your compost to get enough oxygen.
This compost bin has buckles that you can use to set it up easily. It can hold up to 143 gallons of compost which is convenient, but its large size can make it slightly difficult to move around.
Pros:
Modified PP material
100% BPA free
Unique X shaped air vents for aeration
Brightly colored door panels
Connection buckles make it easy to put together
Cons:
Additional landscape staples are needed to fix the bin steadilyon the ground
Once assembled, it can be difficult to move
9. Tillzero Wooden Compost Box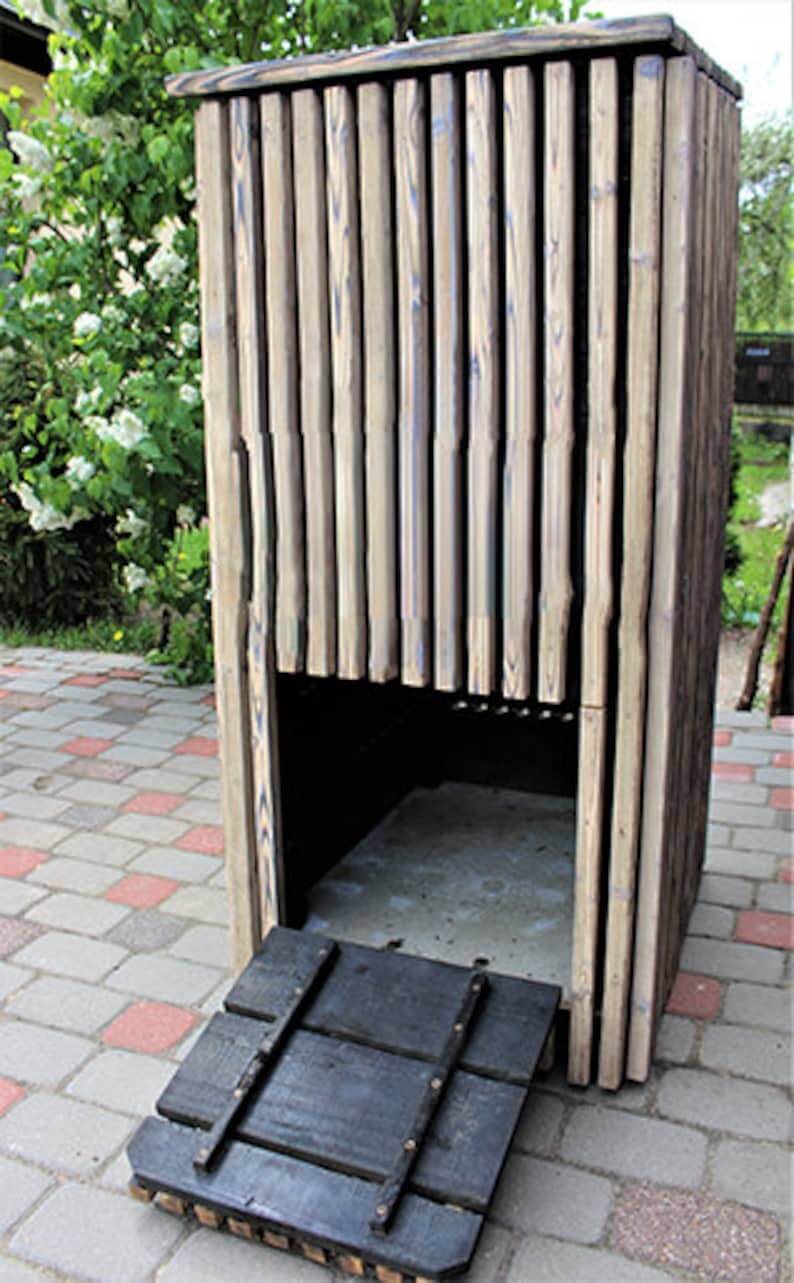 This compost bin is made entirely of wood, which is perfect if you're looking for an environmentally friendly option. The wood is burned and oil imbued which prevents it from rotting due to water or sunlight and also keeps insects out, extending its lifespan.
This hand-made composter is very easy to put together and it comes with all the tools necessary for assembling. On the downside, it's more expensive than most other products on this list.
Pros:
Urban landscape-friendly size
Made of durable wood
Two tone of wooden finish choices
Assembling tools included in the package
Cons:
Too expensive in comparison with its competitors
This product has a high end price tag
The Take Away
Many find composting a hassle and often do not want to deal with the hassle and the problems that come with it. However, the right compost bin can make things a lot easier for you. Once you've found a product you'd like, you can start turning your organic waste into high-quality, homemade fertilizer for your garden.
If you're looking for a more convenient compost bin that's easy to handle and requires very little work, check out our article on compost tumblers.
If you live in an apartment or in an area where you don't have any garden or backyard space, you might want to consider an indoor compost bin instead.