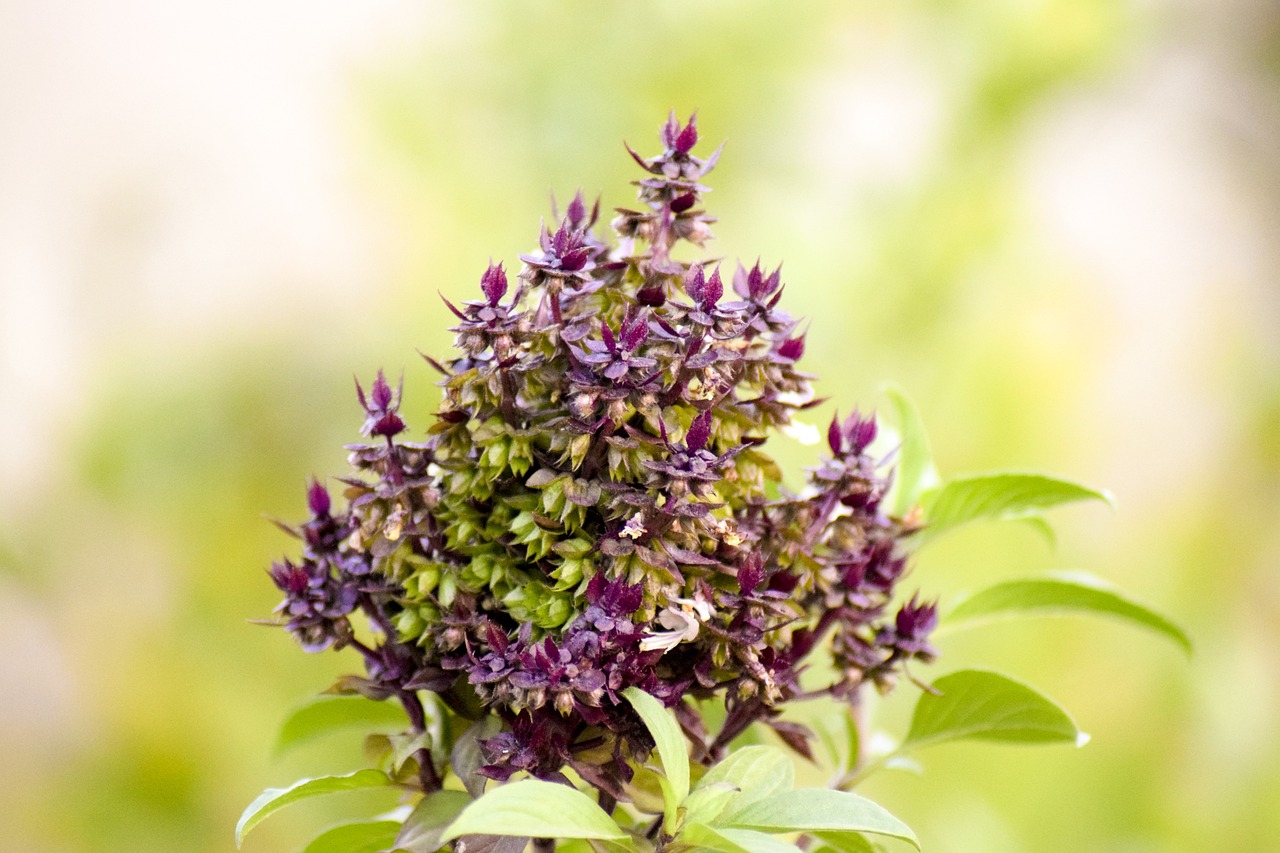 Basil is a popular culinary herb but what do you do with its flowers? The well-known basil is mostly grown for its leaves even though its flowers are fully edible and come fully packed with fragrance and flavor.
Over 95% of the culinary basil use is purely for its leaves, while only a mere 5% is for its flowers. If you're wondering what to do with your basil flowers once you've pinched them, this article will give you an insight to its purpose. Let's get started.
What is Basil?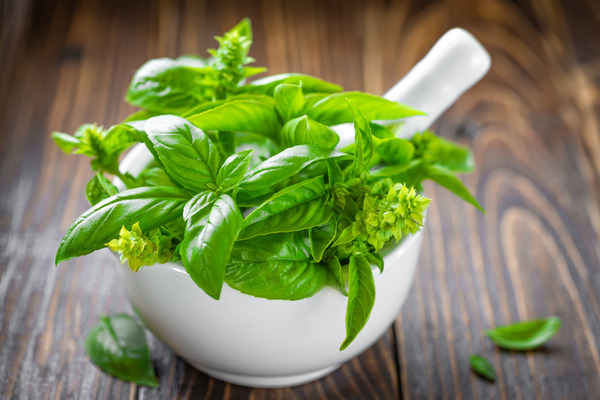 Basil is an aromatic herb that's native to tropical regions of Asia and Africa. It's a member of the mint family and is widely used in cooking, particularly in Italian, Thai, and Vietnamese cuisine. The leaves of the basil plant are green and oval-shaped, and they have a sweet, pungent aroma.
Basil has been used for culinary and medicinal purposes for thousands of years. It's mentioned in ancient texts from India, Greece, and Rome, and has long been revered for its various health benefits. In traditional medicine, basil has been used to treat a wide range of conditions, including digestive problems, respiratory issues, and skin conditions. It's also thought to have anti-inflammatory, antioxidant, and antimicrobial properties.
Today, basil is cultivated all over the world and is widely available in fresh, dried, or frozen form. It's often used to flavor soups, sauces, salads, and a variety of dishes, and is also a popular ingredient in herbal teas and essential oils.
Basil Flowers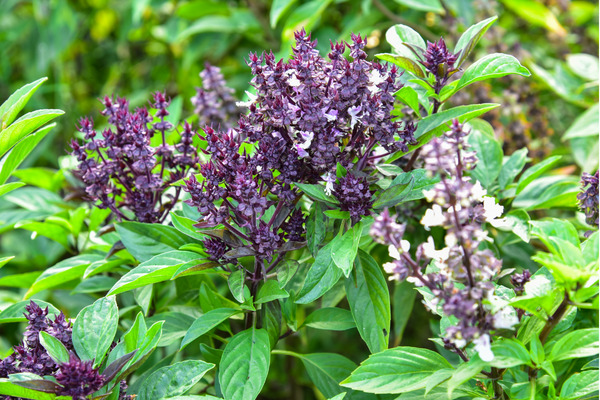 Basil plants produce small, white, or purple flowers that are quite fragrant. The flowers usually appear in the summer and are often used to decorate dishes or to make herbal teas. They're a natural part of the plant's life cycle and indicate the stage where the plant starts to seed: from a growth stage to a reproduction stage.
Basil leaves can change in flavor after the plant flowers. As the basil plant flowers and goes to seed, the leaves may become less flavorful and aromatic. This is because the plant is using its energy to produce seeds rather than to produce essential oils, which give basil its characteristic flavor and aroma.
To maintain a strong, consistent flavor in your basil plants, it's generally best to remove the flowers as they appear. This will encourage the plant to focus on producing leaves rather than flowers, which can help to maintain the flavor and quality of the leaves.
Basil flowers will cross-pollinate with other basil varieties if within 150 feet, so remember to keep your plants apart if you want to avoid this.
The best time to harvest your basil flowers is when they are just emerging from the bud when they are very tender. But if you like a crunch, leave the flowers on a bit longer to mature. However, once you pinch these herbal flowers, they can be used in a variety of ways for culinary, herbal, and decorative purposes.
How to Use Basil Flowers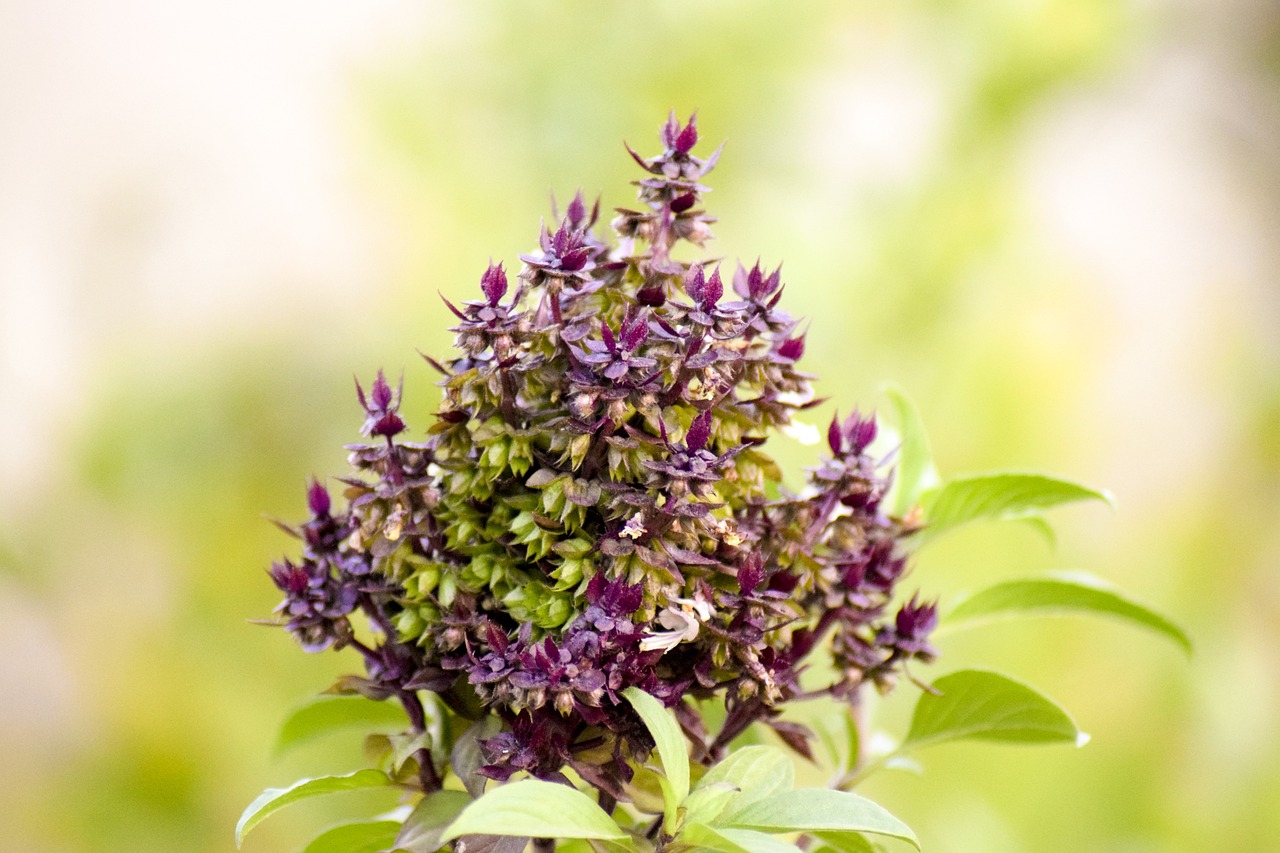 Let's have a look at some of the ways you can use your basil flowers.
· Basil Flower Vinegar
Herb-infused vinegar can bring your homemade salads to a whole new level. Basil flower vinegar can be used with olive oil in salads and it can be paired well with citrus juices as well to go in salads.
Basil blooms taste just like the basil leaves except that they can be a bit towards the bitter side. This is easily solved if infused with vinegar to add a peppery flavor to vinegar which can be used as a salad dressing.
Here's how you can make basil flower vinegar:
Use a clean pair of scissors to harvest the basil flowers by cutting the stem.
Rinse and pat dry with a kitchen towel.
Use a bottle of 16 oz capacity to place around 8 basil flowers.
Pour 2 cups of white vinegar.
Seal and place the bottle in a cool but dark place for a week when the vinegar should turn into a slightly yellowish color.
Strain the flowers out and store the vinegar to use as needed.
·      Basil Flower Oil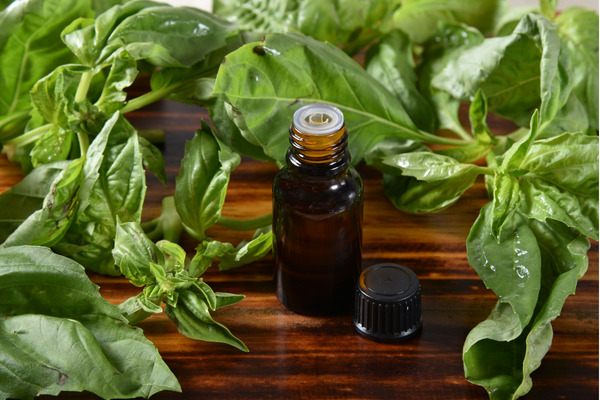 Like vinegar infused with basil flowers, you can also use basil flowers to infuse olive oil. This will enhance your regular olive oil by adding a peppery flavor and aroma. The key step to remember in this is to thoroughly dry the flowers to get rid of any water.
Dry the flowers in the oven at 150 degrees for an hour.
Cool the flowers on a tray.
Place the flowers in a glass jar and fill it with olive oil. Push down the flowers so it fills the jar well.
Store in a cool and dark place for around 5 to 6 weeks.
Strain the flowers and store the oil if you want just the oil or use the oil with the flowers as a salad dressing.
· Basil Flower Herbal Tea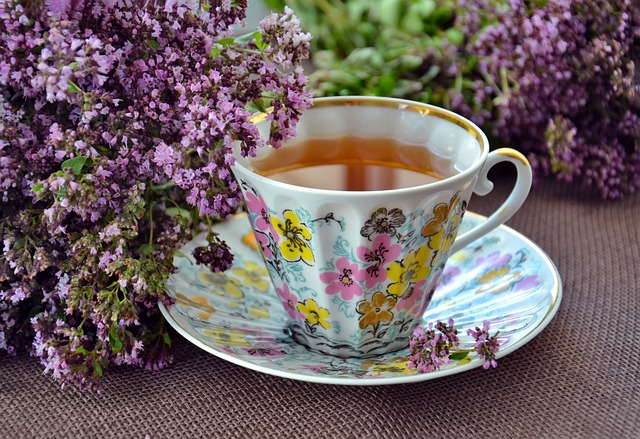 Basil flower tea is a refreshing herbal drink that is easy to make. Simply place a few flowers in a teapot or your cup and pour in hot water. Allow the tea to steep or brew for 3 -4 minutes. Strain the flowers and drink. You can drink it hot, or chilled.
· Basil Flower Infused Water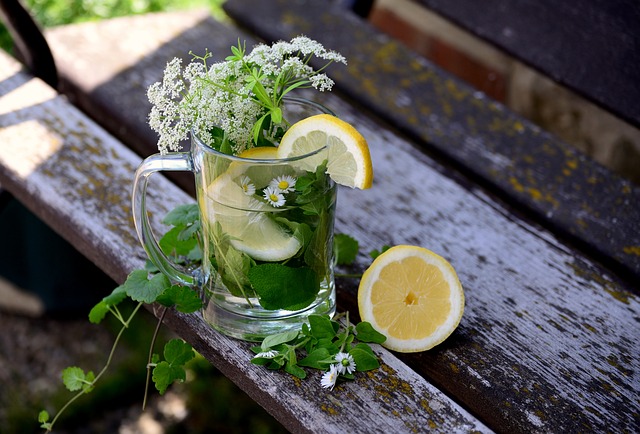 Here is a simple recipe for basil flower-infused water. You will need only a quart of water and a handful of fresh basil flowers.
Fill a quart-sized jar or pitcher with water.
Gently rinse the basil flowers under cool water and pat them dry with a paper towel.
Place the basil flowers in the jar or pitcher of water.
Cover the jar or pitcher with a lid or plastic wrap, and place it in the refrigerator to chill for at least 4 hours or overnight.
After chilling, remove the basil flowers from the water and discard them.
Serve the infused water over ice, and enjoy!
You can also add slices of lemon, lime, or cucumber to the water for additional flavor. Experiment with different combinations of ingredients to find the flavor that you like best.
·      Basil Flower Butter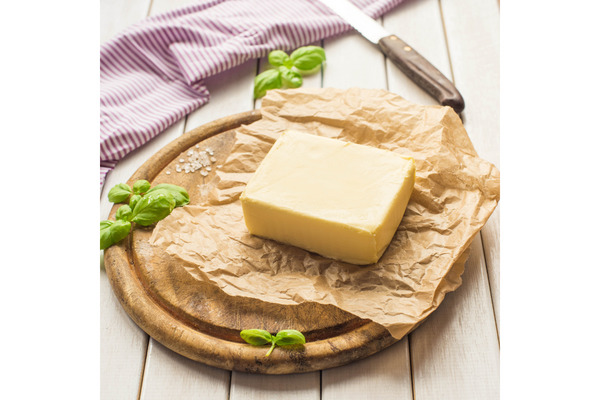 Basil flower butter is a flavored butter that is made by infusing butter with fresh basil flowers. It is a simple and delicious way to add flavor to a variety of dishes, and it can be used as a spread or as a flavor enhancer for cooking.
To make basil flower butter, you will need:
1 cup of unsalted butter, at room temperature
A handful of fresh basil flowers
Salt, to taste (optional)
Here's how to make it:
Rinse the basil flowers under cool water and pat them dry with a paper towel.
Place the butter in a bowl and mash it with a fork until it is smooth and creamy.
Add the basil flowers to the butter and stir until they are well incorporated.
If desired, add a pinch of salt to the butter and stir to combine.
Transfer the basil flower butter to a jar or container with a tight-fitting lid, and store it in the refrigerator until ready to use. This herb butter can be frozen for up to 6 months and in the refrigerator for up to a month.
Basil flower butter can be used in a variety of ways. You can spread it on toast, use it to flavor grilled or roasted meats, or use it as a topping for vegetables. It can also be used to make flavorful sauces or marinades. Experiment with using basil flower butter in different dishes to find the uses that you enjoy most.
· Basil Flowers in Salads
Basil flowers make an excellent addition to salads. Try them in tomato salads, fresh fruit salads or any salad for that matter. The whole tender buds go very well with salads, or you can remove the flowers individually. The best types of basil flowers for salads are lemon and lime basil.
· Basil Flower Salt
Basil-flavored salt is a great way to enhance the flavors in salt. This is easy to make and will be a great gift choice as well.  You will need:
2 cups of basil flowers
½ cup of salt
Here's how to make it:
Process in a food processor for about 10 seconds until it's chopped roughly.
Spread over a tray lined with baking paper for 30 mins at 250 F.
Toss the mix to see if it's thoroughly dried.
Allow to cool and process again till it's fine.
Store in pretty jars.
· Floral Displays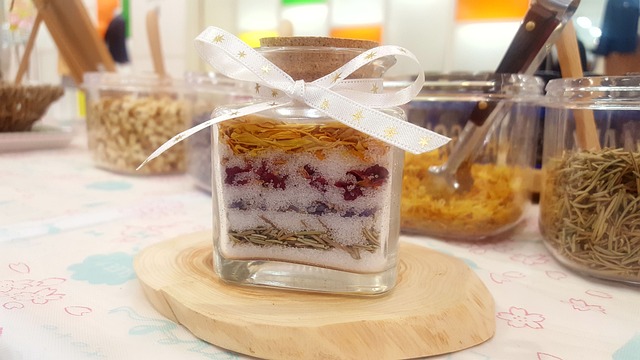 Basil flowers are beautiful and attractive. They are a cost-effective way to add color, scent, and character to your arrangements. As basil flowers come with long stems, they make it easier to work with. The following basil varieties for color.
African Blue Basil
Cinnamon Basil
Chocolate Basil
Genovese Basil
Holy Basil
Lemon Basil
Lime Basil
Spicy Bush Basil
Place freshly cut basil flowers in a vase of water to keep them fresh for longer and they can be used in cut flower bouquets. You can also dry the basil flowers and use them as potpourri in your arrangements and decorations around the house.
Wrapping Up
Most times, basil flowers are pinched off to energize plant growth. Although the flowers can be used in the same manner as you might use basil leaves, only a very small percentage of basil flowers are harvested for use.
Now that you know the many uses of basil flowers, why not make use of your next basil flower harvest which now has a purpose rather than getting tossed out?
If you'd like to learn more about basil and how to grow it in your very own garden, check out these articles on: 11 Basil Varieties and How to Grow Basil.
Basil Flower FAQ's
1. When is it a good time to harvest basil flowers?
Basil flowers can be harvested in their tender stage just when they are transitioning from the bud, or they can be left a bit longer to be mature when they tend to develop a crunch.
2. What varieties of colour do basil flowers come in?
Basil flowers can come in purple, pink or white depending on their species and breed.
3. Can basil flowers be mixed with other herbs to make herb-infused oil, butter, tea?
Yes, basil flowers make a great companion to other herbs for herb infused products.
4. Are basil flowers poisonous?
Basil flowers are not poisonous, but if consumed in high quantities, it may affect the digestive system.
5. Why does basil flower?
Basil flowers are a natural stage in the life cycle of a basil plant. Flowers indicate the basil plant is transitioning from a growth stage to a reproductive stage.
6. Are basil flowers bitter?
Some basil flowers can be bitter and a bit intense so taste them before adding to anything.
7. Do basil flowers affect the taste of basil leaves?
Basil leaves change flavour after the plant flowers, usually the leaves become bitter.
8. Can I stop my basil from flowering?
By picking the flowers as soon as they appear, you will be able to encourage your basil plant to grow.